11 Jan 2022
Which are the Best Affordable Touch Screen Laptops in 2022?

Laptops have been around for quite a while now ad most laptops come with a lot of exciting features. Some have gesture controls, while others have unbelievable levels of flexibility, and so on. One of the latest innovations to hit the laptop market is touchscreen laptops. With so many devices in our day-to-day life becoming touch-enabled, this seems like the right thing to do by laptop manufacturers.
With so many brands trying to adopt this technology, only a few have got it right. Let's take a look at some that we think are the best, most affordable touch screen laptops in 2022.
Asus VivoBook Flip 14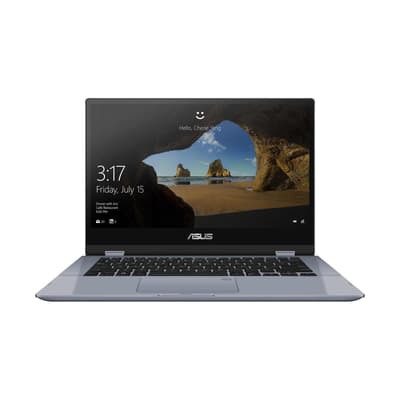 As one of the more budget-friendly series of notebooks, the Vivobook line of ASUS laptops is quite impressive. The hardware is what catches your attention at first. This device comes packing an Intel Core i3-10110U 10th Gen with Intel UHD Graphics, and it's good enough for some decent gaming on the side.
The Asus VivoBook Flip 14 also comes with 4GB RAM that allows you to blow past most tasks and has up to 512GB of SSD storage . It includes 1 x HDMI 1.4, 1 x 3.5mm Combo Audio Jack, 1 x DC-in, 2 x USB 2.0 Type-A, 1 x USB 3.2 Gen 1 Type-A, 1 x USB 3.2 Gen 1 Type-C & 1 x 2 in1 card reader (SD/MMC) for connectivity
The display is a 14-inch FHD Touch Display and is a good choice for a laptop at this price. The screen's touch sensitivity is extremely good and responds well to even the slightest touches. It has an sRGB gamut coverage of 56% and an exceptional contrast ratio of 1400:1 at 120 nits. It has a Max brightness of 250 nits, making it an excellent display for writing, reading, and working with graphs and excel sheets.
It is a decent display to stream videos. However, we recommend getting an external monitor if you plan to edit photos and video, as the 56 percent sRGB coverage is not exactly the best for color-critical tasks. Considering that the display has just 250 nits of brightness, it's more suitable for indoor use but will be hard to work on in bright light or the sun.
The display can fully flip over, allowing you to use the device as a tablet for entertainment or sketching. The speakers are decent enough in quiet rooms and therefore suitable for voice frequencies and attending video conferences.
Microsoft Surface Go 2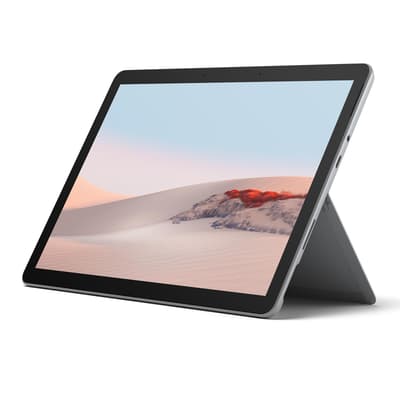 Described as Microsofts most affordable and portable two-in-one laptop, the Surface Go 2 is more of a straightforward tablet that can be converted into a laptop with Microsoft's detachable keyboard. The CPU performance, screen, and battery life improve its brand image as an attractive and lightweight device suited for emails, web browsing, and video calls.
The overall design of the Surface Go 2 hasn't changed very much from its predecessors. It has a 10.5-incher with a resolution of 1,920×1280 and a pixel density of 220dpi. The image quality is excellent; visuals are crisp and sharp, with good color balance. Though its rivals, such as Apple's iPad, offer higher resolutions displays, the Surface Go 2 is perfect for simple web browsing, checking your emails, or making video calls, thanks to its Pixel Sense Display. As far as the touch screen controls are concerned, the Surface Go 2 is quick to respond, and the user experience – smooth like butter.
Despite the larger screen, nothing much has changed. The device is still 175mm deep, 245mm wide, and just 8.3mm thick. However, it is slightly heavier, with our review unit weighing 544g, than its predecessor, which weighed 522g. But it's still easy to carry around and use with one hand. It has a built-in kickstand allowing you to quickly rest it on a desk or table when you need to.
Microsoft has designed the Surface Go 2, keeping video calls in mind. It has a 5MP webcam which works very well and provides explicit, detailed imagery. It also has an 8MP sensor on the back, and the device comes with an updated version of the Microsoft Windows Camera app that now includes a document-scanning mode.
The dual microphones have been fine-tuned for more explicit voice calls, and even the tiny 2W speakers seem to be tweaked for better sound output. Connectivity is fairly limited, with just a single USB-C port, a Micro-SDXC card slot, and a 3.5mm headphone jack, along with Microsoft's proprietary port for its keyboard covers. But considering it is such a compact device, it is impossible to include too many ports, so it's unlikely to deter many users.
Hopefully, these two options may have answered your query about the best affordable touchscreen laptops in 2022. There are other options, such as the "Dell New Inspiron 14 5406 Intel Core I3 11th Gen" and the Surface Go's a bigger sibling, the "Microsoft Surface Pro 7 Intel Core I5 10th Gen" that we have given a full review about.
If you are planning to buy affordable touch screen laptops, look no further as you can get these two laptops right here at Poorvika.
So apart from that, we have a wide variety of other Gadgets, Phones, and Smart Devices available on our Official Poorvika Website. If you're looking for EMI options, we've got you covered with several discounts customized just for you. Poorvika also recommends acquiring its Poorvika Protection Pack, which starts at Rs.649 and helps protect your smart devices from unexpected physical and liquid damage. To discover more, visit your nearest Poorvika Store.
When you place your orders, you can now choose our 2 Hours Fast Delivery option to have your beloved gadgets or smart devices delivered right to your door. Our delivery expert is highly skilled and takes pride in knowing that each of your delivery orders makes it home.