13 Jan 2022
Top 5 Best Budget Bluetooth Boom Headsets under ₹3,000 – Poorvika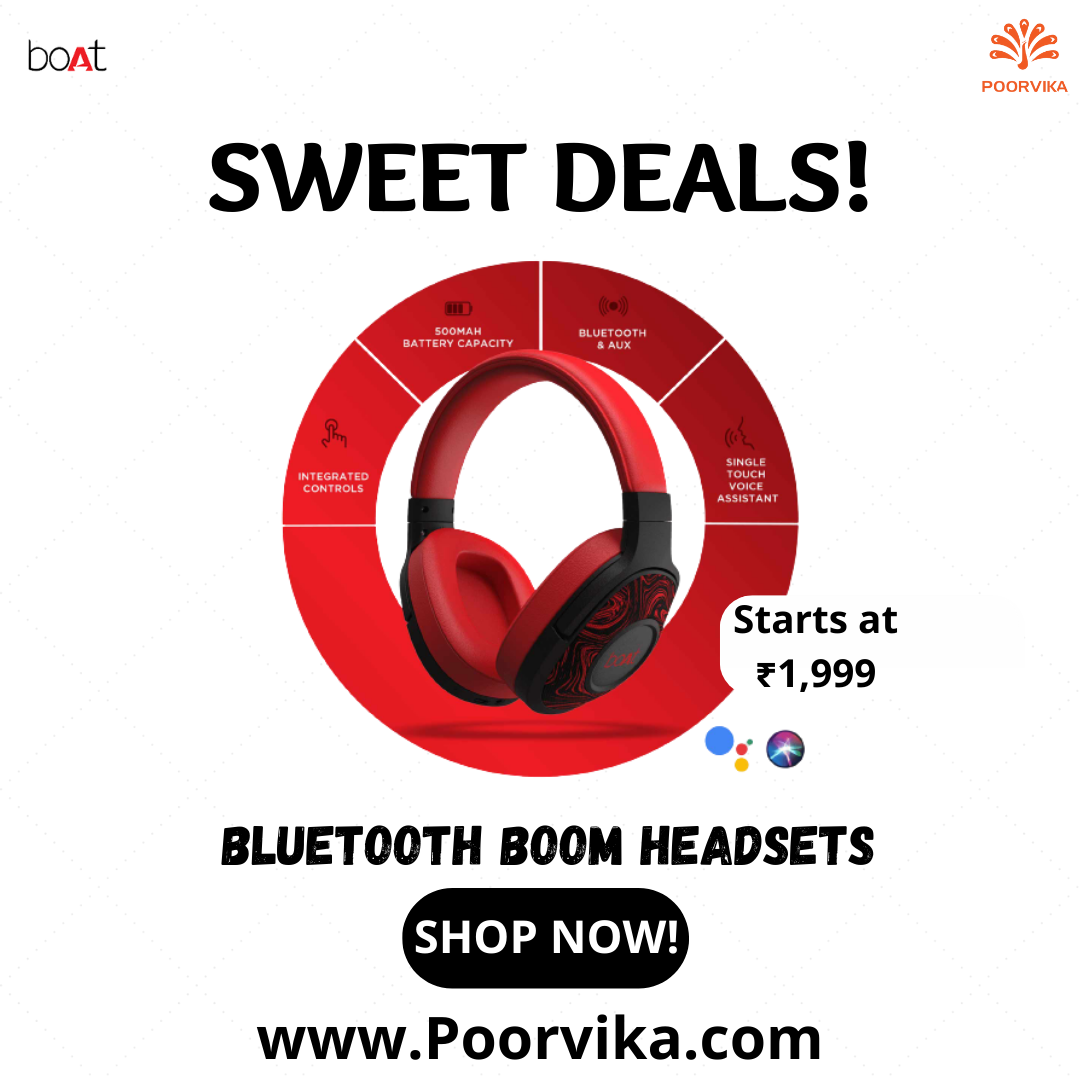 Do you hate cables? Do you want to be able to move around freely while listening to music, watching videos, or gaming? Do you want a headset so comfortable that it feels like nothing is there? We are here to help you out as we curate a list of the best five budget-friendly Bluetooth Headphones in this blog. So let's waste no more words and get into the products.
JBL T500 Bluetooth Boom Headset
JBL T500 Bluetooth Boom Headset offers lightweight comfort and exceptional sound quality with the freedom of wireless Bluetooth connection. With just one touch of a button on your phone or tablet, you can start streaming your favourite tunes in crystal clear stereo sound with powerful bass. This Headset is compatible with Bluetooth devices, such as smartphones, tablets, TV and computers.
The JBL T500 headset delivers all the powerful bass you expect from a JBL Bluetooth headset. In addition, with Quad-Layer Speaker Technology, you can experience "extraordinary sound" in every direction. This means you will get natural stereo left and right audio with increased volume and clarity even in the deep bass notes.
JBL has also included their patented LiveStage™ technology to this device which allows for lifelike stage volume – perfect for concerts or live music events when you really want to feel like you are in the crowd or front row at a gig.
The neckband on the JBL T500 Bluetooth Boom Headset is flexible, stays in place and provides a comfortable fit. It is also built with reflective material to help keep you safe when jogging or walking at night.
The Bluetooth headset can be used for up to 16 hours of continuous music or talk time, or around 500 hours per charge when in standby mode. After a total charge usage, it can take up to 2 hours to recharge the Headset. This Headset comes with a unique charging cable that allows you to listen while charging. A handy feature if you need power quickly. The controls are located on the right earpiece, so you have quick access and easy use at any time during your day.
Conekt Felix Heavy Bass Bluetooth Headphones
You want to listen to your favourite music in style, but you don't want your neighbours to complain. Meet the Conekt Felix Heavy Bass Bluetooth Headphones, a hilarious way of making you the life of any party.
The headphones also wirelessly connect via Bluetooth and have AUX input jacks and three-button control, which allows for quick access to volume and playback functions as necessary. The high-quality material and stylish Foldable design of the Headset, along with the adjustable loop, make it an excellent choice for listening to your favourite music.
These Bluetooth Boom headset also feature a mic, which provides a clear voice while on call and receives no disturbances even when we are outdoors. Also, the 12-hour playtime after fully charging the headphones is an excellent advantage as it can be efficiently used during long trips or flight travels. In addition to these features, the audio quality of the Conekt Felix Headphones is reviewed to be very good with Heavy Bass, like how they advertised the product.
The best part about these headphones is that they are universal — meaning there will be no compatibility issues with mobile devices or computers. These funny headphones are sure to be a conversation-starter, so whether you're looking for some funky headphones or you need some that can pump out the bass, this is for you.
Boat Rockerz 450R Boom Headset
This Boat Rockerz 450R Boom Headset is one of many products that deliver optimal sound quality even in rough weather, which can make all the difference if you want to stay awake during long trips at sea. The fact that it's Bluetooth compatible means you can connect it to your phone or any other device with ease. It tends to be easier to use with boat owners in mind, but you can also use it for listening to music on the go and just about anything else.
Design-wise, the Headset feels secure and well-built — there are no rattling or cheap plastic parts anywhere. The headband is reasonably cushioned and fits nicely around most sizes of heads. Also, a good thing about this Boat Rockerz 450R Boom Headset is that it can also be used with a single-sided cable, which is nowhere near as prone to tangling as the double-sided alternatives.
Battery life is great; up to 15 hours of continuous use can be expected on a single charge — more than enough time for most trips. This Headset supports a dynamic range of up to 100dB and has a quality microphone that allows you to converse with others or take calls with ease. The Bluetooth 4.0 connectivity, on the other hand, makes streaming crystal clear music from your phone or device an absolute breeze.
This Headset is worth its price for the excellent audio quality, HD Immersive Audio and microphone — not to mention the fact that you can use it for long trips and just about everything else in life. So, the Boat Rockerz 450R Boom Headset might be a tad on the bulky side, but its outstanding sound quality and microphone make up for that in no time, and Boat Rockerz 450R price is worth it. You can buy Boat Rockerz Online now at Poorvika's Official website.
Sony WH-CH510 Boom Headset
Nothing beats a wireless headset with great sound quality when it comes to listening to music and enjoying the world around you. However, not all wireless headsets are equal. Sony's WH-CH510 Boom Headset is one of the best wireless headphones you can buy for your iPhone or Android smartphone.
For starters, the WH-CH510 Boom Headset has a much greater Bluetooth range than most other wireless headsets. It can have up to 2 meters of Bluetooth range, 10x greater than most headsets. The WH-CH510 is compatible with smartphones using BT v3.0 and also supports NFC technology for quick and easy pairing with your smartphone or tablet. Sony has also included microphone mute capabilities, Bluetooth 4.1 connectivity, and a headphone jack for wired connection when charging isn't an option.
When it comes to audio quality, the Sony Boom Headset's 3D sound technology creates a more realistic 3D listening experience that lets you hear sounds from all directions in 360 degrees.! This device features surround sound and in-line controls with up to 35 hours of battery life. But if that's still not enough to satisfy you, the WH-CH510 Boom Headset also has a built-in microphone for taking calls and supports SmartTalk, Noise Reduction and voice commands for hands-free calling.
While this wireless Headset is perfect for all of your listening needs, it can also be used as a hands-free device with in-line controls. You can skip and rewind tracks, answer calls, and even control the volume and play track forward. In short, this is the best wireless Headset for your iPhone or Android smartphone: it has impressive sound quality and offers a high level of connectivity. It's an excellent value product that you can use to listen to music or make calls on the move without having to take your smartphone out of your pocket or bag.
Boat Rockerz 558 Bluetooth Headsets
The Boat Rockerz 558 is the wireless Bluetooth headset you've been waiting for. With twenty hours of battery life, easy pairing with a range of smart devices, and custom sound settings that provide a perfect listening experience in any situation, it's time to drop your overpriced onboard Headset for good.
This Bluetooth headset offers StayHear+ Noise Isolation technology which completely seals out unwanted noise and allows you to enjoy crystal clear sound in your favourite music or conversation. The headband is rubberized on both sides, so it won't slip off your head while wearing it while scrubbing down the boat or hiking up the mountain. And the adjustable headband will fit most users, from toddlers to adults.
The main control is on the headband, so you can easily change songs, adjust the volume and even answer or end a call. You can even use your voice to navigate the interface without looking at your phone if you'd like. And with a carrying case included, this Headset is ready for everyday adventures no matter how momentous they may be. The battery life lasts up to 20 hours of Musical bliss and up to 600 hours of standby time on a single charge.
All you have to do is turn it on and pair it with your smartphone through one of the many available apps, whether that's Siri or Google Now. With the Boat Rockerz 558, you'll finally be able to listen to your music no matter where you are. Also, Bluetooth 4.0 allows enhanced data transfer rate and phone functionality to ensure flawless compatibility with Apple & Android devices. Now, at Poorvika, you can order Boat Rockerz 558 & buy it online at the best price.
So, hurry up and buy your favourite branded Bluetooth headphones and earbuds for the best price at Poorvika. Visit the Official website to know amazing Offers & Cashback Deals on a wide range of gadgets. Order now and get it delivered to your doorstep in two hours.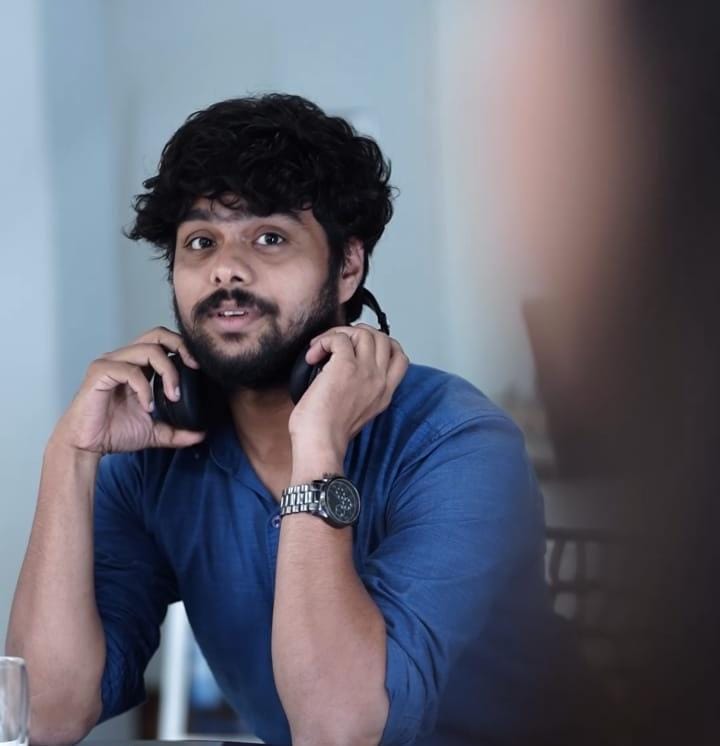 Content Writer. Digital Marketing. SEO.