12 Feb 2022
Everything you need to know about the Lenovo Yoga 6 Ryzen R7 Windows 11 82ND007VIN Home 2 In 1 Laptop

Are you looking for a premium designed laptop to impress your friends & colleagues at the workplace? Then Lenovo Yoga 6 is the one you are looking for! Lenovo has taken the concept of "style" to a different level by adding fabric-like material to its chassis for a new unique look & feel. Not just the design, even its ultra-slim convertible laptop comes at a budget-friendly price, which makes it worth buying. In this blog, you will see the full specification & features of Lenovo Yoga 6.
Design & In-Built
From the design part, Lenovo has made the Yoga 6 convertible Laptop cases with aluminium on the top and ABS plastic on the bottom, both in Abyss Blue colour. The top is covered in a denim-like blue fabric material that might be contentious and can also protect the top from being covered with fingerprints. The abyss blue continuous interior portion of the laptop makes it look good from the outside. At the top "YOGA" Logo is embedded at the corner of the fabric, while the opposite bottom corner "Lenovo" logo emblem in glossy chrome.
Since it's a 2-in-1 convertible laptop, it's easy to fold the lid at 90, 180, 360 degrees, which can be worked in a tent or table mode. It's nice to work either way to look at the display or if you want to do a bit of sketching.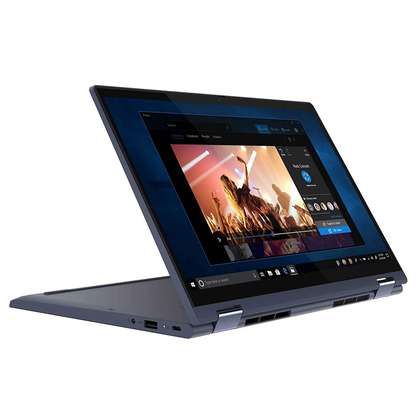 Yoga 6 Laptop weighs 1.32kg and measures thickness between 17mm to 18.2mm. It's not that incredibly thin or light, but it's portable enough. If you prefer laptops with larger screens, this size does make a bit more sense for a convertible, as it's easier to lift & rotate the screen.
The keyboard is decently spaced, offering pleasant clicks and enough feedback. The keys provide a nice bump on a 2.5 x 4.1 -inch touchpad soft to the touch. It also has a backlit, so you can adjust the different levels, which can be helpful while working late nights. Below the keyboard, it has a decently sized trackpad without taking a vertical space. With having spacious touchpad, it becomes pretty comfortable to navigate. You will have an easy go on zooming & scrolling while using the touchpad.
Alongside the keyboard, it has a fingerprint reader on the laptop, which is available just below the keyboard. For the Yoga 6 convertible, fingerprint might be a little odd when used in tablet mode, as the fingerprint reader will be at the back. However, it will be closer to the edge for accessibility, and you can use it easily by flipping back.
Display
Lenovo Yoga 6 features 13.3-inch with a 1920×1080 Full HD IPS touchscreen and has a 16:9 aspect ratio. Since it's a Full HD resolution, it can be sharp enough to display this size. It is an incredibly mainstream device & they have reserved the higher-resolution panels for premium devices only. The great thing about this Lenovo Yoga 6 Laptop is that when you turn on the brightness to a low level, it turns off the backlight altogether. It could be an excellent way to save your laptop power as well as your eyes when used at night.
Lenovo says it makes up 74% of NTSC, which is pretty impressive, and on the other hand, it has significantly less brightness of 300nits.
Above the display, it has an HD webcam with a moderate resolution of 720p. Though it doesn't look that small on the bezel, you can use it under a decent amount of light. It does have a built-in shutter for privacy, so you wouldn't need to cover it up with a sticky note or use your hands.
As far as sound, it has outstanding Dolby Atmos®-optimized stereo speakers that can produce quality audio so that you can enjoy listening to your favourite shows even from a distance.
Performance & Storage
Lenovo Yoga 6 sports AMD Ryzen 7 5700 processor with Windows 11 Home OS, and it is awe-inspiring for your daily multitasking. Thanks to its industry-leading AMD Technology, it accelerates from booting up to entertainment & productivity and has a fast response even when you're loading a high-quality video. It has built-in AMD Radeon™ Graphics, which lets you no lagging while watching your favourite shows or any media editing or playing games.
Talking about the storage part, the laptop runs on 16GB RAM (DDR4) and a 1TB SSD which is an excellent setup for your day-to-day multitasking performance. Yoga 6 is one of the fast laptops for most of your everyday tasks, though you will be ok with its 8GB version.
For smarter convenience, It has got Alexa featuring a UI & expanded features. For easy navigation on the desktop, you can use an optional pen, which can be helpful in drag and drop & sketching or drawing. It also has Intelligent Cooling, so you can get long-lasting battery life as it optimizes the performance based on your needs.
Connectivity
The Yoga 6 has a worthy supply of ports but some unfortunate boundaries. Here, you get 2 USB-C ports, but only one of them supports charging, so it's not always accessible to have the laptop in a position where you can easily connect to the charger. It also doesn't support Thunderbolt; it's just because of being an AMD laptop. You also get 2 USB-A ports. But unfortunately, it doesn't have an HDMI port, though if you want to connect to your monitor, you need to have a USB-C Adapter with you separately. It supports WLAN -WiFi 6 11ax, 2×2, and has a Bluetooth v5.0, built for best-in-class connectivity and mobility for ultra-fast connectivity. And it does have a headphone jack for those who need it.
Verdict
You will have many reasons to buy Lenovo Yoga 6 Laptop, as it comes with an AMD Ryzen processor, are a 2-in-1 Convertible Laptop, portable device, and a stylish fabric covered designed Laptop.
In short, you can take it anywhere, or have endless entertainment and thus can be a good choice for this price range as it's fast, good looking & versatile. And if you want to get a Yoga 6 laptop at the best offers and discounts, log in to our Poorvika website or visit your nearest store today!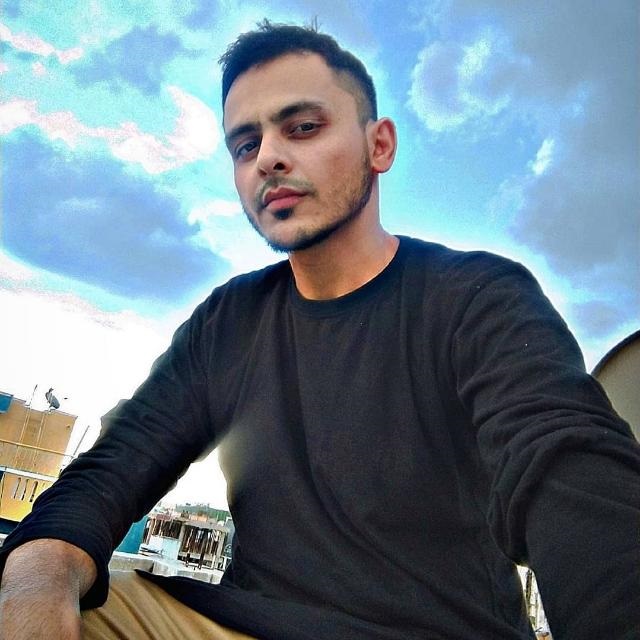 Content Writer – Digital Marketing