21 Feb 2022
Poorvika Smartwatch Mela Offers – Up to 62% Discount on Top brands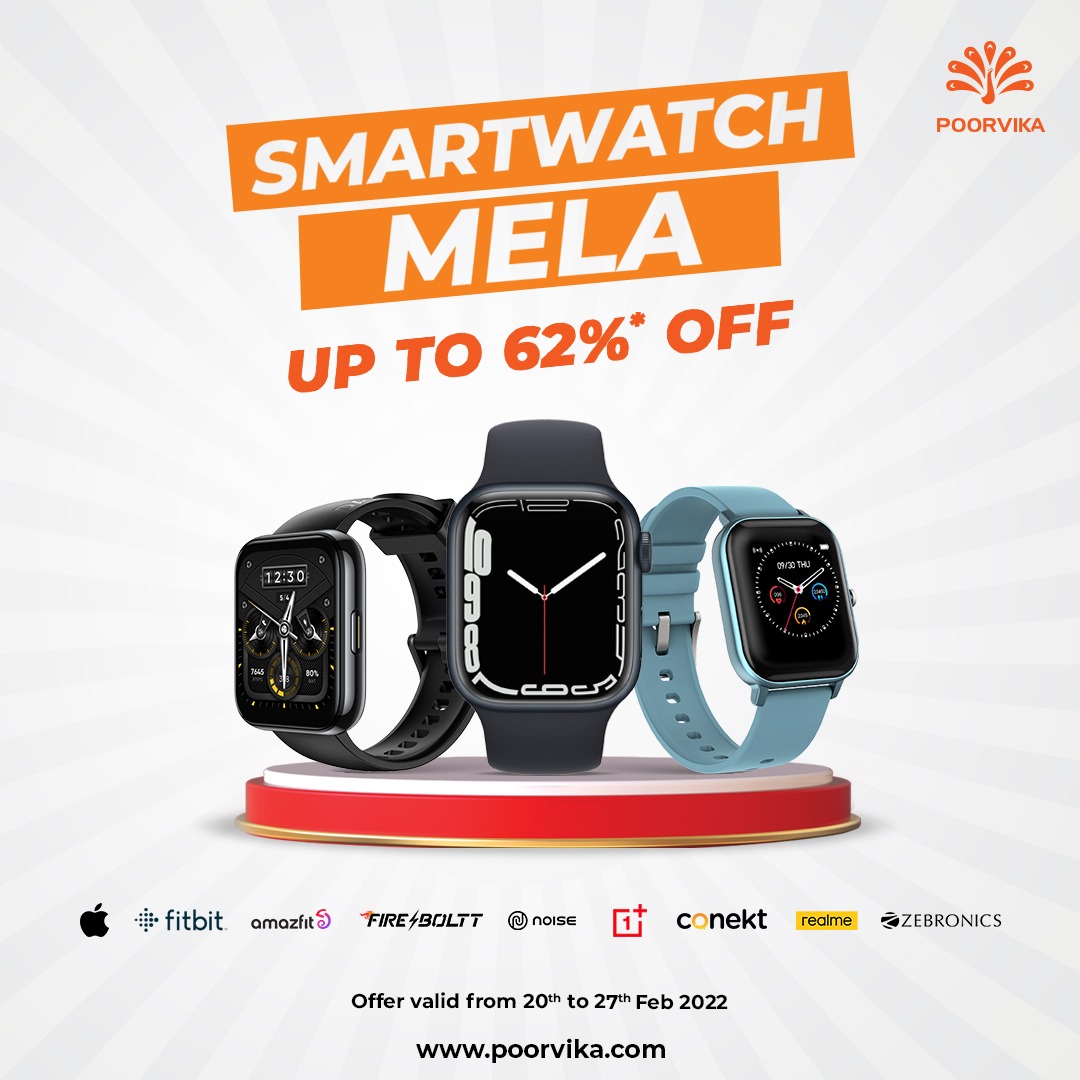 Poorvika Smartwatch Mela Offers:
Planning on getting your very first Smartwatch or looking for options to replace your old watch?
Now is the ideal time to get yourself one or gift special ones as Poorvika Smartwatch Mela is live!
Smartwatches are of significant hype in this tech obsessive era as they are an on-the-go gadget with several features.
This E-Commerce Giant has announced unbelievable deals on top Smartwatch brands starting February 20.
Let's now check out top Smartwatches from the best brands and their features:
Amazfit GTS 2 Mini:
Amazfit, a leading tech brand, has developed a mini version of all features we use in a Smartphone in a budget-friendly gadget, the "Amazfit GTS 2 Mini".
The Sleek, high fashioned design has captured the heart of all fashionistas out there!
The Amazfit watch features a 1.55″ Always-On Square AMOLED Display protected by carefully curved 2.5 Glass with a brightness of 450nits that gives you a perfect fit. Match your vibe every day with 80+ Watch Face Themes and 60+ Always-on Display patterns.
This is an all-round health monitor with in-built 24Hour Heart Rate Monitoring with Heart Rate Warnings, Blood-Oxygen Saturation (SpO2) Measurement, Menstrual Cycle Tracking, Stress Level Monitoring, Sleep Quality Monitoring with Sleep Stages, and PAI Health Assessment System.
The Amazfit GTS 2 Mini is a must-have gadget to lead a Healthy and Personalised Lifestyle.
Amazfit BIP U:
Make life Easier with Amazfit BIP U, which sports a 1.43″ large colour screen display for a better and clearer view.
This watch is ultra-light and weighs only 31g creating all-day comfort.
The high-resolution screen produces an exquisite visual display making messages, incoming calls, and reminders extremely clear.
Suit your mood and outfit with 50 available watch faces, and you can also upload your photo to create a personalised watch face.
Monitor your Blood oxygen level, Sleep Quality, heart rate, Stress, Menstrual cycle, etc. Stay relaxed and enjoy potentially more without worrying about the watch dying as it features an extraordinary battery life that can last up to a week.
realme Watch 2 Pro:
With a 1.75″ touch screen display and a weight of only 40g, the watch 2 Pro gives you the best of tech. The wide display prevents mistouches, and the high resolution, vivid display allow us to see even under direct sunlight.
Keep accurate track of all your fitness activities without worrying about running out of battery life since the watch could last up to 14 days once charged.
This realme Smartwatch is rated IP68, so feel free to sweat out on heavy workouts.
realme Watch 2:
realme Watch 2 is designed for those who enjoy sporting with style. The watch has a 1.4-inch high-resolution touch screen display with 600-nit brightness.
Raise your wrist to activate the screen with 90 sports modes on this watch that maintain information on workout lengths, calories burned, average pace, heart rate, and more.
This realme smartwatch comes with a powerful magnetic charger and a 315mAh extra-large battery that lasts for a week.
Feel free to wash the dishes as the watch is rated IP68, so you won't have to worry about it falling out.
Lets now look at some of the Smartwatch under 3000
Conekt SW1 PRO:
It's time to power yourself with the conekt SW1 PRO Smartwatch that features a 1.72″ HD display and Dual Bluetooth technology that makes calls and message viewing easier. The watch contains an in-built SpO2, Blood Pressure, ECG, and Heart Rate sensor, so you can keep track of your health. The battery lasts for almost a week, so do not worry about the watch shutting down.
Zebronics Zeb FIT6220CH:
After Covid, people's health and fitness have become a top priority.
Zebronics developed the Zebronics Zeb-Fit6220CH Smartwatch, which features a square display that serves as a crown with up to 100 pre-built watch faces to keep track of your health.
This Smartwatch functions as an ideal fitness Gadget with an in-built Alexa voice Assistant to support Android/iOS devices, so you can keep track of your fitness goals without skipping a beat.
The Zeb watch features a call function and voice assistant compatibility for android/iOS devices, so keep up with your workout routine without worrying about sweat.
Fire-Boltt BSW001:
The Boltt's "Fire-Boltt BSW001" has a sturdy metallic build with a 1.4″ HD Full-Colour Display with a transparent 2.5D curved glass precisely designed and a peak brightness of 400 Nits.
This Boltt Smartwatch comes with a fantastic battery that can stay charged for up to eight days, track the number of calories burnt, and monitor your fitness, Heart rate, body water, and SpO2 Blood Oxygen levels.
Noise COLORFIT PULSE:
Start the year off right with the Noise ColorFit Pulse, which comes with a 1.4″ full touch display, a stylish square dial, and improved screen quality.
Keep track of your heart rate, blood oxygen levels, stress levels, and sleep durations with this noise watch, all of these characteristics built-in.
Splashes and dampness won't affect the watch's performance anymore as it has an IP68 rating, so go ahead and sweat it out.
Noise COLOR FIT BEAT:
Tune to your inner voice with noise COLORFIT BEAT smartwatch that comes with a 1.4″ full touch colour display and vivid picture quality. Choose from eight different sports modes and a wide choice of watch faces.
The watch has blood oxygen and heart rate monitoring systems and an IP68 rating, indicating that the gadget is waterproof.
It's time to flaunt tech in style!
Poorvika Smartwatch Offer is a limited-time offer, so hop into the Poorvika site and order yours NOW!