25 Feb 2022
Poorvika Smartwatch Mela Offers – realme Smartwatch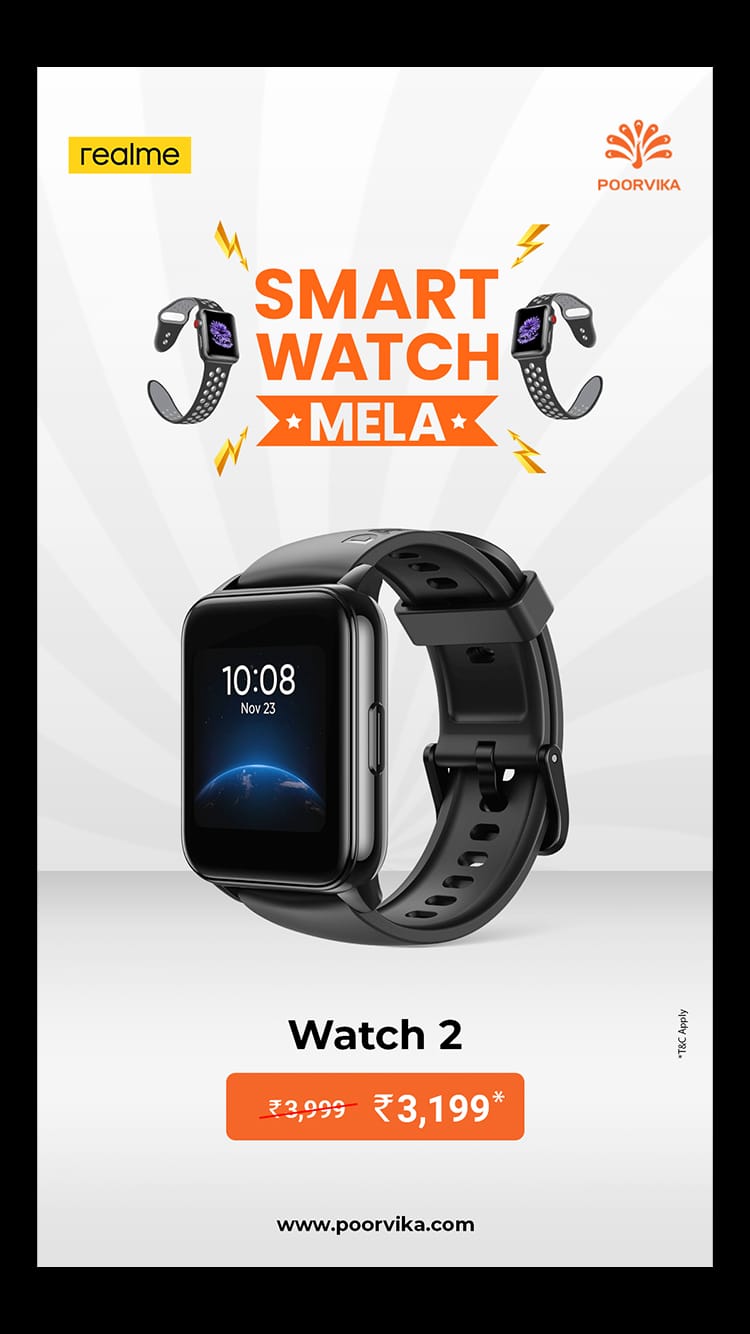 Hurry!!
Poorvika Smartwatch Mela is live!
Smartwatches are at peak hype this season.
With up to 62% Offers on top brands, make your smartwatch dream come true.
Blend with the trend with "realme", a brand known for perfection and tech peer, has launched budget-friendly smartwatches precisely designed for day-to-day usage.
Lets now look at the trending models from the brand and their features:
realme Watch 2 PRO:
realme Watch 2 PRO – For those who love to sport in style.
This realme watch's 1.75″ Large Color Display includes a finely placed 2.5D scratch-resistant glass, a high brightness of 600 Nits and a 30 FPS refresh rate.
The display is 56 per cent larger, providing more viewing space and eliminating mistouches, while the resolution of 320 385 pixels allows for clear viewing even in direct sunshine.
The Real Sports Engine on this Watch ensures optimum productivity.
The Gadget weighs 40g and has a 22mm wide liquid silicone watch band with an adjustable 150-215mm length.
With High-Precision Dual-Satellite GPS, you can get precise route information, step tracking, and activity monitoring right at your fingertips. Depart your phone at home and go exploring without fear of being lost.
This Watch offers 90 sports modes to aid you to get started on your fitness journey. You can now track activities like Outdoor Run, Outdoor Walk, Outdoor Cycle, Indoor Run, Strength Training, Football, Basketball, Cricket, Badminton, Jump Rope, Rowing Machine, Elliptical, Yoga, Free Training, etc.
With features like 24-hour heart rate measurement, Blood oxygen measurement, Sleep detection, Calories, Distance, Water reminder, Sedentary reminder, and Activity records, the Watch 2 Pro has a 3-axis accelerometer and a Heart rate sensor.
This Gadget serves as a significant health monitor.
Are you sweating after a heavy workout?
No issues!
This Watch has an IP68 Water Resistance Rating, which implies it is completely waterproof. With Bluetooth 5.0, you can remain connected to your mobile and not miss any notifications.
The Watch has a 390mAh battery that can last for 14 days when fully charged.
Order your watch while Smartwatch Offer is live!
realme Watch 2:
realme Watch 2 – Your new Style Companion
The display on this Smart Gadget is a 1.4″ high-quality touch screen with a 323 PPI resolution and a max brightness of 600 nits.
The Watch is merely 38 gms, making it easy to wear all day.
To wake the screen, simply raise your hand!
Choose from over 100 watch faces to match your style and mood daily. Create your watch faces with ease and experience a new viewing experience.
With inbuilt 90 sports modes, you'll have accurate static and insight into all of your workouts, including calories burned, average pace, heart rate, and much more.
Workout hard without worrying about sweat ruining your Watch because the Gadget is IP68 rated, which means it's entirely waterproof.
The battery can last for up to 14 days from being fully charged.
So what are you waiting for?
Get your realme Smartwatch before the Offers ends!
Order now on the Poorvika site and Get your Smart Gadget in 2 hours.