26 Feb 2022
Apple MagSafe Duo Charger Review

It's an extremely handy travel charger that can charge up to two devices at the same time, including Airpods, Apple Watches, and iPhones. The thin design makes it ideal for nightstands and desks, and its features make it an excellent choice for travel. A maximum charging output of 14W for MagSafe (most third-party options only top out at 7.5W) and a Lightning port make it the best MagSafe charger. Its high price makes it an upgrade for Apple fans.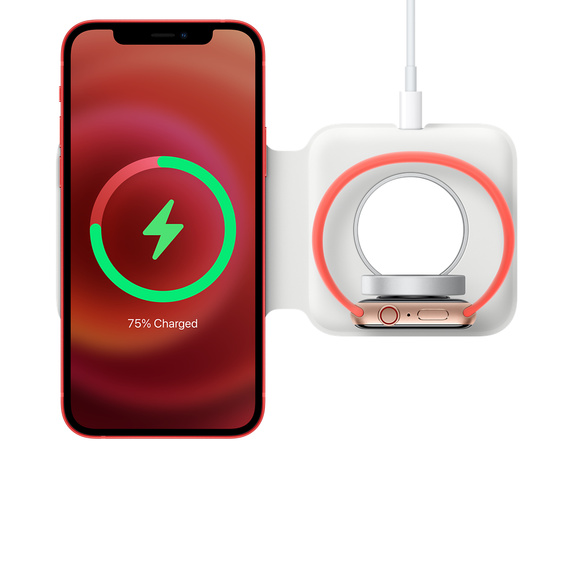 There are two parts to the MagSafe Duo device: the wireless charger side is connected to a MagSafe wireless charging puck on the left side. The charging puck operates in a similar way to Apple's Apple Watch charging stand, which is metal-encased and can be flipped up or positioned flat. MagSafe Duo is designed to act as a dock where you can place your phone instead of using a standalone MagSafe charger that can be used while you hold your phone and move around. A MagSafe Wireless Charger is different from a standard wireless charger or dual-device charger because it aligns with your device when you throw it on it. It charges any Qi-enabled device in addition to the iPhone 12 models that are MagSafe.
Apple-designed this charger with a white colour that feels soft to the touch. We've just started using it, so we're concerned about how dirty it will become if we remove it from our desk too often. MagSafe Duo is portable and lightweight so that you can use it at your desk, nightstand, and travelling. You can fold it in half to tuck it into your bag so you can take it anywhere. MagSafe Duo has only one port, a Lightning port, used to power up the charger. Unfortunately, the requisite power brick is not included in the product.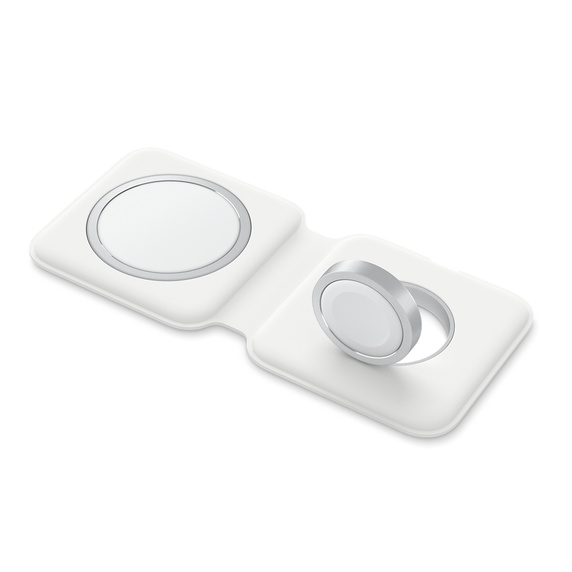 As a charging technology, MagSafe can charge an iPhone 13 model at speeds approximately equal to the maximum wired iPhone can accept, which is 18W. MagSafe Duo is slightly more limited, with a full power of only 14W. The problem with MagSafe is it reduces the charging speed to only 14W rather than 15W. The device may use Lightning rather than USB-C, or the Apple Watch might generate too much heat when combined with MagSafe.
MagSafe Duo requires a massive 27W USB-C power brick to maintain maximum 14W speeds. Even with the full 14W speed, it requires a little frustrating that Apple introduces MagSafe, touts high speeds, and then promptly promptly promptly introduces its dual charger with slower speeds. If you use a 20W power brick, you will be limited to only 11W of wireless charging. Charging speed isn't everything, particularly if this is intended to be an overnight solution, but it is worth noting the possible benefits of efficiency in wireless charging.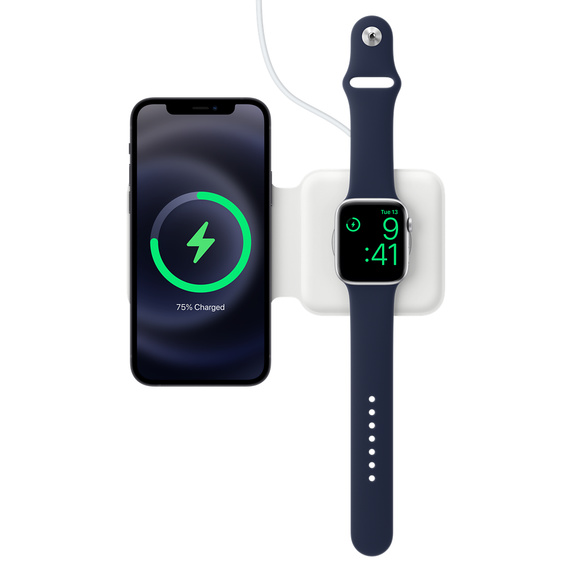 Lastly, we want to emphasize that while this charger is designed for the iPhone 13 and works well with it, MagSafe is compatible with any Qi-enabled device. That includes your AirPods, a friend's phone, or just about anything else your family has to lie around. By selecting only cables, you would only require the cables that come in the box with Apple Watch and iPhone, making MagSafe Duo a completely luxurious product with a few small conveniences.
The MagSafe cable can be used with your apple watch charging puck if you want to use MagSafe. This setup allows you to pick up and hold your phone while it charges and gets you faster speeds. Apple has a reputation for charging a lot of money for docks. Take, for instance, Apple's Apple Watch Dock. From the Apple Watch accessory line, this model is extremely similar to MagSafe Duo. Imagine if you were able to use a MagSafe charger and an Apple Watch Dock to replicate MagSafe Duo.
MagSafe Duo is only a premium if you are already spending, and it only requires one power brick. This charger is expensive, but it can only charge two items at once – namely AirPods and iPhone – so if you want to charge AirPods and iPhone simultaneously, you will still need to purchase another charger. It would have been nice for Apple to offer a USB port on the rear of the dock so that a third device could be charged optionally. Several new triple-in-one docks are currently available for comparable prices, and many dual chargers feature USB ports.
MagSafe Duo is one of our favourites, but its high price tag makes it difficult to justify the more compromises that are made. These include the price, slower charging speeds, the ability to charge only two devices, and the limited durability. We still bought a MagSafe Duo – despite the fact that Apple users probably won't flock to it, but you must work harder to justify it. Fortunately, "it's cool" is sufficient justification.
Buy Best Wireless chargers online at the best Price in India. For more details, Specifications, Product reviews, kindly Check Out the Poorvika website.