10 Mar 2022
Best Wireless Chargers for Android and iPhone in India 2022

Wireless chargers are becoming popular these days. Zero worry about the proper place to keep a device safely. The wireless power consortium approves Qi-certified chargers, and it is very safe to use. An ultra-slim and lightweight charger are suitable for office as well as home usage. An additional beauty of the wireless adapter is the emission of Radiation level that is very low. The key argument for wireless charging over wired charging is convenience. Currently, wireless charging is a serious contender to replace wired charging. Some key tweaks and innovations have further enhanced wireless charging's comfort and practicality for a truly worry-free experience.


Inductive energy is transferred between transmitter and receiver coils as soon as the charging station detects a compatible device. The charging station generates a small electromagnetic field above the charging surface. The receiver coil carries the current to the battery, and the battery is recharged. The battery is monitored continuously during the charging cycle, and the process is automatically discontinued when the battery is fully charged. The healthcare, automotive, aerospace, and consumer goods industries are gaining a competitive advantage with wireless charging. It provides a convenient, dependable, and a secure method of charging and powering equipment.

When a device is placed on a wireless charging pad, the built-in coil captures energy from the magnetic field, which powers the battery. Magnetic wireless chargers are connected via a magnetic field absorbed by your phone or electronic device. You don't need a USB-C or Lightning cable to charge your phone using a wireless charger. Simply drop the device on the charging pad, and it begins charging. The trick to wireless charging is a transmitter built into your wireless charger, and there is a receiver built into your phone with wireless charging. In order for the charger to charge your phone, a transmitter transmits a magnetic field to a receiver mounted on your phone's back. The receiver then converts the magnetic field into electricity.

Wireless chargers must be aligned properly on the charger in order to function properly because the transmitter and receiver have to be close enough to each other. The metal back of a phone blocks the connection between the transmitter and receiver, which is why most newer phones have glass backs instead of metal. The majority of cases do not interfere with the connection, so you usually do not need to remove it in order to use it. Trying to convince yourself that wireless charging can enhance your life? Let's dive deeper into the world of wireless charging and the improvements it can provide.

SanDisk Ixpand Wireless 15W Charging Pad With Type C Cable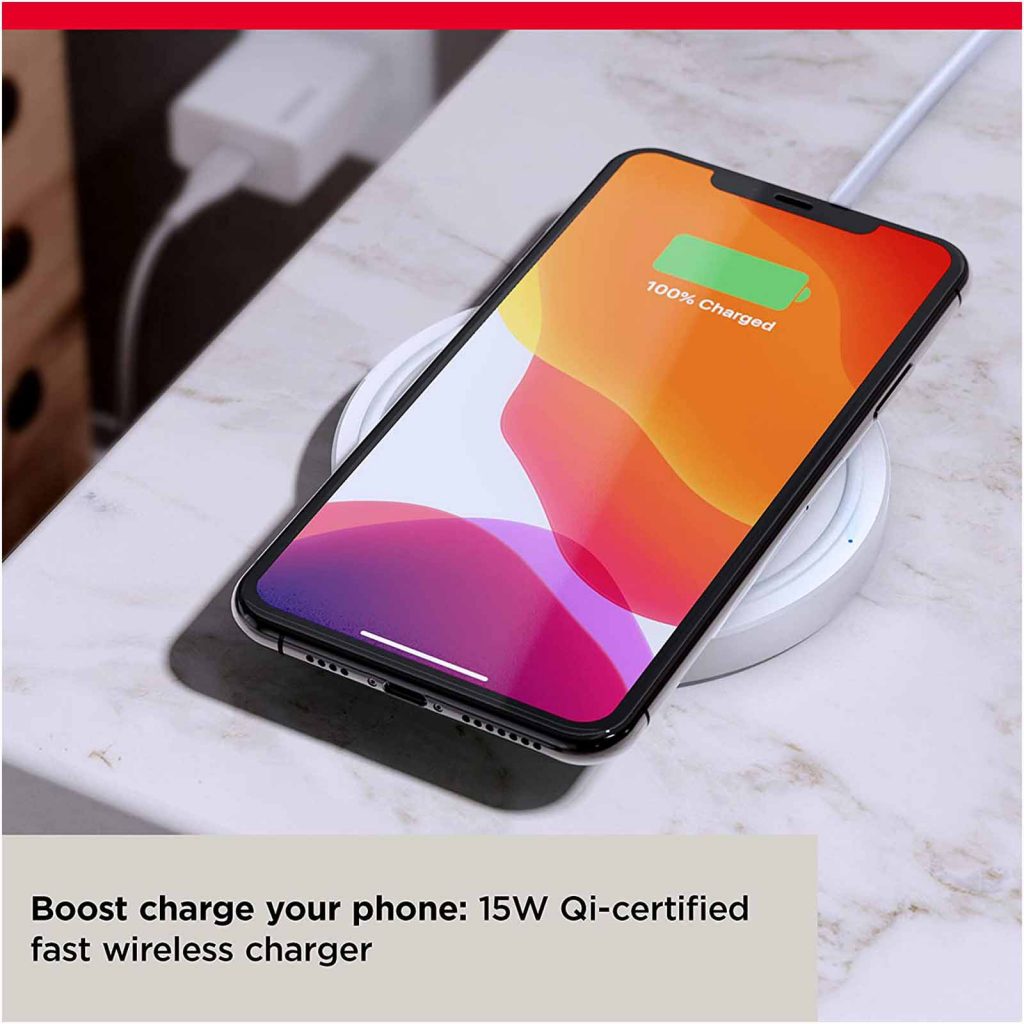 It is designed for wireless fast charging with a Non-slip grip mechanism. It suits well for Android devices, iOS devices, and accessories. It is Qi-compatible and suits well for mobiles and accessories. We can use Type A to Type C cables. A USB type C cable, Sandisk AC adapter, and Ixpand charger will be available in the package. Sandisk is a sub-brand of Western Digital that offers storage products. The company's products include external hard drives, internal hard drives, flash drives, and solid-state drives. Sandisk has released a wireless charger using Qi standards. The SanDisk Ixpand Wireless Charger 15W is a typical-looking wireless charger with a circular design. The charger features a rubber ring around it to prevent phones from sliding off it. A small LED shows the various charging activities at a glance.

The charging pad, data cable, and power adapter all come in white colour. These three parts are made from high-quality plastic but could get dirty eventually. The company should at least have offered the product in other colors, such as black. If the phone is not aligned properly on the charger or a foreign object is placed on the charger, the LED will turn red. The LED will be blue and begin blinking when the device is charging. The LED turns to static blue as soon as the phone is fully charged. This universal wireless charger is compatible with Android, iPhones, and even TWS earphones that support wireless charging. However, most devices are likely to charge at a much slower rate due to this wireless charger. A 15w charger is available for the iPhone 12 Pro, similar to the Apple MagSafe.

Kapaver Dix Series Type C Fast Wireless Charger Pad


Kapaver Dix Fast Wireless Charger Pad is a perfect accessory for Qi standard smartphone. A Fanless heat efficient Thermal management design makes it more sensible and protects a device from harm. The sleek design of this Qi-compatible charging dock perfectly holds your devices in place and provides a slim profile to comfortably travel or keep on any flat surface in a perfect platform for wireless charging. It features Exclusive Multifunctional Intelligent Protect Technology, allowing it to perform temperature control, surge protection, short circuit prevention, and more. This design, which is 0.47 inches thick, is more efficient and cooler than any other charger.


We suggest removing the phone case and using our recommended adapters for a better experience. It is easy and convenient to charge your devices via quickly charged 9V power-efficient wireless charging, which eliminates the inconvenience of tangled cords, bumped ports and attaching cables every time you want to recharge them. As an ideal wireless charger for your Qi-enabled phone, the modern and compact design seamlessly blend into your environment, providing the fastest charging solution you need.


Conclusion :
Wireless chargers make a wider impact on the public these days. A stylish Apple 15w MagSafe charger used to charge iPhone devices and its accessories is awesome. An electromagnetic induction concept makes a bigger change in this modern charging system. MagSafe chargers let to charge supportable devices such as Mobiles and Airpods. It has compatibility with a Qi-certified charging system. Perfectly aligned magnets help for fast charging up to 15 watts, and many features are imposed over this model. For more details, customer reviews, specifications, kindly visit the Poorvika website. Buy the best MagSafe Wireless charger-white online at a reasonable price in India. Kindly visit the Poorvika website. Buy Best Wireless adapters online from Poorvika.