16 Mar 2022
Zeiss Smartphone Wipes

Did you know that the average Indian spends more than 8 hours a day on their phone? I suppose it makes sense because smartphones have become indispensable to our daily lives. As a result of being on multiple surfaces and being touched every day, your phone is exposed to numerous contaminants every day…have you ever thought about how dirty it might be?
A protective case can help keep dirt and bacteria off your phone's actual screen, but your Case needs to be cleaned too! At The Lab, we recommend cleaning your phone once per day, but there are a few tips to follow to make sure you clean it carefully.
In the wake of the Coronavirus pandemic, people certainly seem to wash their hands thoroughly after visiting public places and avoid touching their faces as often. Not everyone knows how to disinfect gadgets, especially one we pick up a hundred times every day and which touches our faces frequently. Here's why it's so important to clean your smartphone properly, as well as how to do so.
The best cloth for cleaning your phone screen is one that glides. This type of cloth picks up dirt and dust with just a few gentle motions – no need to press down on the screen. Zeiss Smartphone Wipes are your best option for this application. Last but not least, there's no substitute for harsh wiping other than to lighten your hands. This one may require more psychological intervention, and considering that we're not therapists, you'll have to remind yourself to slow down. So, even just using the Zeiss smudge-free wipes may cause you to be a bit more gentle when wiping your screen.
The number of ways you can clean your phone is seemingly endless, and however, many of them will damage your device. So instead of reaching for a product or method that causes damage, focus on products or procedures that do the job without shortening the lifespan of your smartphone. With ScreenShine and our microfiber cloths, you can be sure to get the cleaning you need without the extra baggage.
Clean fingerprints, smudges, and dust off your phone screens with Zeiss smartphone wipes. Clean is bundled in travel-friendly cloths. This nonabrasive, nontoxic formula gets rid of smudges, fingerprints, and dust on a molecular level. Zeiss smartphone wipes create an invisible forcefield to protect against future smudges and dirt. When you want your smartphone to look its best, use Zeiss smartphone wipes.
Zeiss smartphone wipes infused with formula dries quickly, removing streaks. This premium smartphone wipes towelette is excellent for cleaning your cell phone, tablets, electronic screens, glasses, or other optic surfaces. It is especially great for cleaning premium coated surfaces, such as anti-glare or non-reflective lenses. The towelettes are lightweight and compact, perfect for use while on the go. They can be easily stored in a purse, backpack, briefcase, or even your back pocket.
The Zeiss smartphone wipes professional formula removes all types of gunk from your glasses, lenses, and screen, including skin oils, dust, smudges, dirt, make-up, and hairspray. The pre-moistened, ultra-fine ZEISS tissues ensure fast and effective spectacle cleaning while on the go. The product's cleaning performance has been extensively tested by independent institutions (COLTS) – and no scratching or straining of the lens was observed. Its ultra-fine structure means that it thoroughly cleans all spectacle lenses, including those with high-quality coatings. It also contains an exceptional combination of two agents, which are also used for cleaning medical equipment.
The ZEISS lens cleaning wipes effectively clean all types of delicate optical surfaces easily and without leaving streaks behind. They're free of aggressive cleaning agents and artificial fragrances as well. Zeiss Lens Cleaner for Glasses Camera Laptops Cellphones With Microfiber Cloth-30ml Suitable for all-optical surfaces, including smartphones, tablets, laptops, mobile phones, and cameras Atmosphere-friendly formula gently dissolves grease and lifts dirt from any optical surface to leave an optically transparent surface.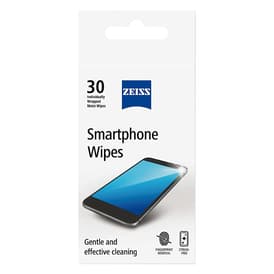 As everyone strives to stay clean and hygienic these days, don't forget to keep your gadgets clean. If your smartphone is considered water-resistant or waterproof, you must avoid exposing it to excessive moisture. We use smartphones, laptops, tablets, cameras, and headphones every day, but they are generally the last thing we think about when it comes to hygiene. Clean your Mobile Phone using a dry tissue and clean, dry cloth daily to remove any dirt or fingerprints, and keep it covered in the phone Back Case for as long as possible. Buy Zeiss Mobile Phone Wipes Online at the best Price in India. Also, Buy a Mobile Phone Back case Online at the best Price from the Poorvika website.