17 Mar 2022
OnePlus Watch: Features and Specifications – Poorvika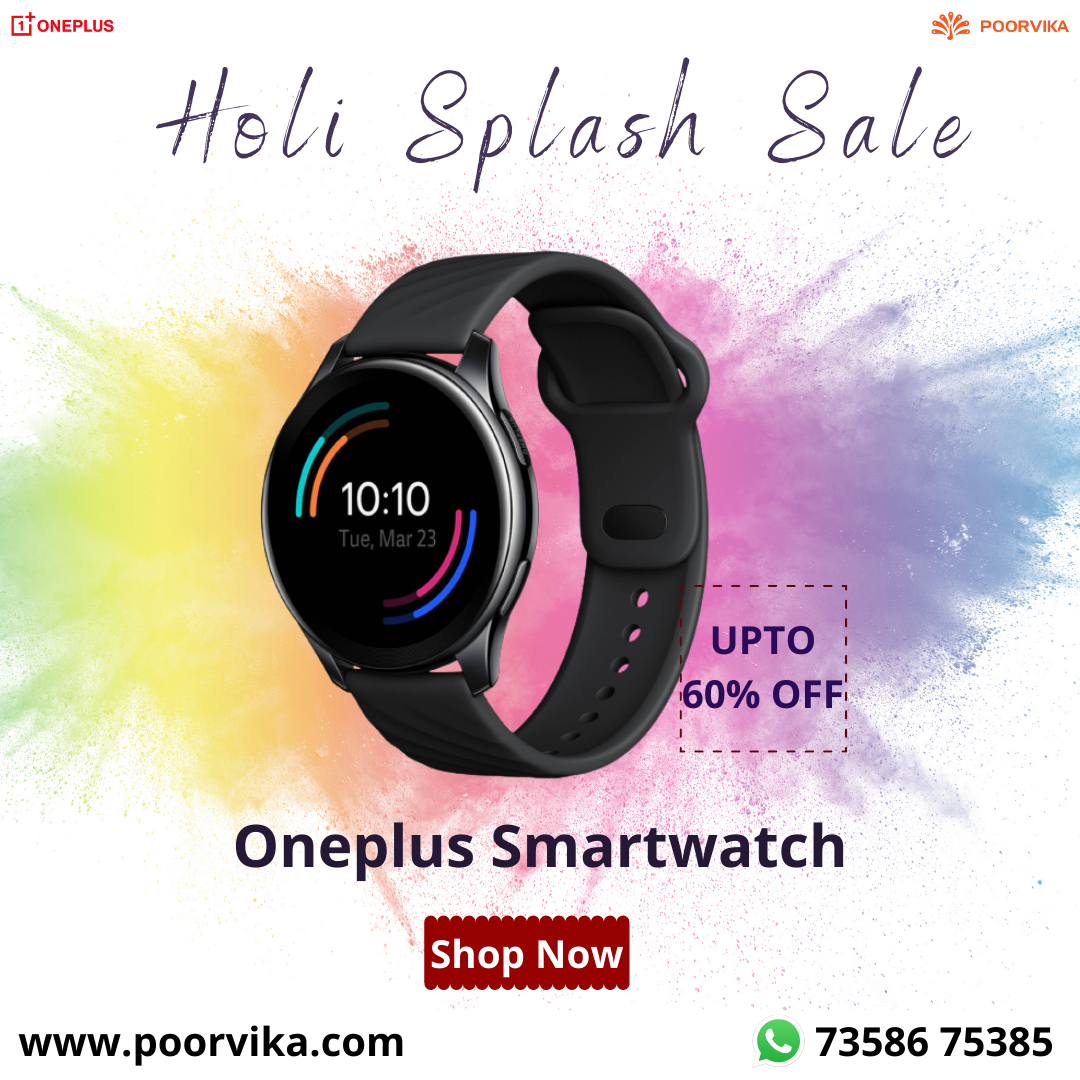 Elegant Design with Hands-free Calling:
The OnePlus watch stands out with its stunning design and seamless edges resulting from intricate crafting and modern technology. You will gain people's admiration wherever you go wearing this fantastic watch. This watch has a hands-free feature, a call indicator, and Bluetooth 5.0 technology, enabling you to stay connected without taking your smartphone out of your pocket or purse.
Maintain your health as well as track your stress levels:
This watch includes a blood oxygen sensor that allows you to keep track of your SPO2 (blood oxygen saturation) level. Blood oxygen saturation can be a critical indicator of your health. In addition, it offers sleep monitoring, daytime spot checks, and long-term data tracking so that you can anticipate any potentially harmful health problems in advance. The stress tracking feature in this watch keeps track of your Heart Rate Variability (HRV) based on fluctuations that might arise due to unchecked stress levels. With its optical heart rate sensor, you'll gain an in-depth understanding of your mental and physical fitness, which you can use to find your groove again quickly. The breath training feature will also help you to relax and calm down.
With Warp Charging and Up to 4 GB of Storage:
The Oneplus Smartwatch's Warp charging feature eliminates the need for long charging times. You can charge your watch within a few minutes, which you can use for the whole day. If you're short on time, you can rejuvenate your watch in about 20 minutes, giving you about one week's worth of runtime. So, you can get your watch back to life in the time it takes to make your morning coffee or finish reading the latest chapter. This watch allows you to stay connected to your favorite music without needing an additional device or smartphone. Enjoy unlimited access to your most liked audio files with this watch, as it features up to 4GB of internal storage.
Discover Your Ideal Workout:
The watch allows you to choose an appropriate workout from over 110 types and tracks your progress efficiently to help keep you motivated and on track to achieve your fitness goals. Furthermore, its satellite positioning feature enables you to track your daily commute, your morning runs, or even your night walks at any time from anywhere.
Display with Exquisite Design, Water- and dust-resistance:
Enjoy your time at the pool or improve your swimming skills with this IP68 and 5 ATM water-resistant watch. It provides weather resistance and offers dust and water resistance. You can take advantage of these features to enhance your swimming skills and enjoy poolside parties. This device also measures critical swimming metrics, such as distance, speed, SWOLF efficiency, and pulse to improve your performance and technique. This 46 mm watch features a floating effect throughout, which combines a beautiful display with a seamless touch mechanism. Its display has an aesthetic design and smooth functionality that rightly complements its screen. Moreover, its polished bezel and watch face create an enticing and captivating spectacle that will make heads turn everywhere you go.
To know Oneplus Smartwatch Price, visit the Official Poorvika website. Order and Get it with amazing offers and discounts at the best price in 2 hours.