19 Mar 2022
Is the Apple iPhone SE worth buying?

Apple just announced the launch of their all-new 2022 Apple SE. This follows the launch of their already successful iPhone 13 lineup. But why. We all know that Apple and its products are priced quite high; therefore, not everybody can afford them. Well, the multibillion-dollar tech giant's answer to that problem comes in the form of the small and rather affordable Apple SE. But is it worth buying?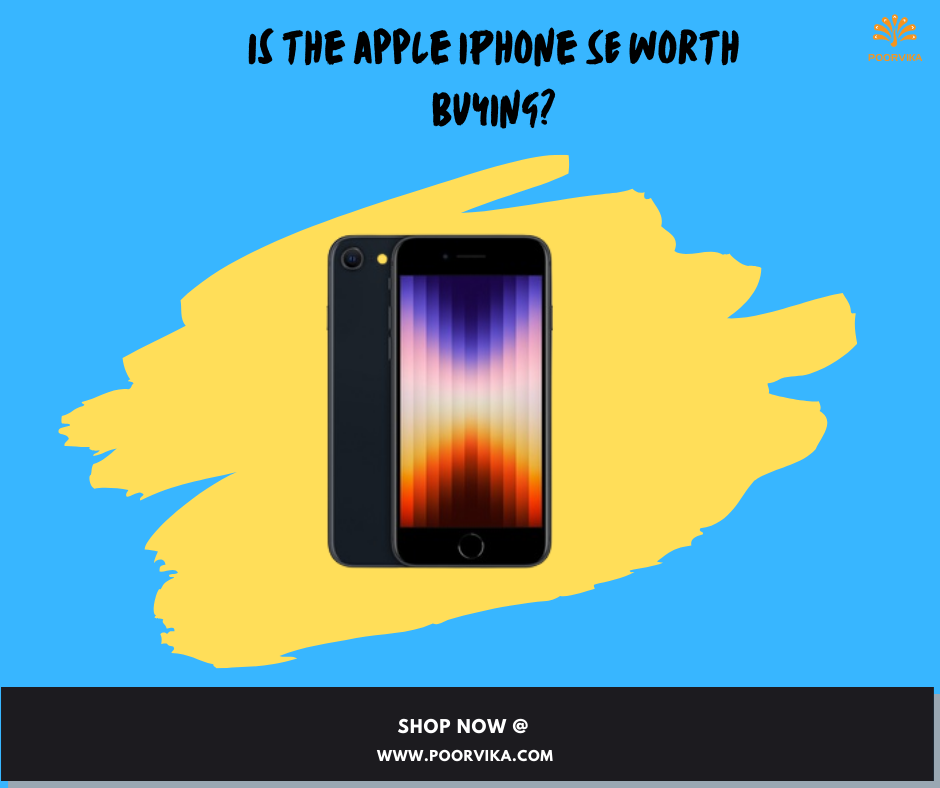 Well, firstly, what you need to know is that the SE is a mix of new tricks in an old body. From the outside, nothing has changed; it's the same old chassis that the SE originally featured back in 2017 with rounded edges and corners. Considering the slight design revamp that the iPhone 13 series features, the SE does look like a blast from the past, something that may appeal to older iPhone users.
Weighing a mere 144 g and measuring 138.4 x 67.3 x 7.3 mm, the iPhone SE 2022 is more or less the same as the previous generation SE we saw in 2020 in terms of both build and dimensions. The device is comfortable to hold thanks to the sleek design that has been carried over from its predecessors allowing for easy single-handed usage.
The body still has a Glass Front and Back molded onto an Aluminium Chassis. But it would be nice to see a bit more protection on the body considering it's 2022 and most midrange smartphones nowadays come with Corning Gorilla Glass or Toughened glass, to say the least.
The Display is surprisingly the same one you would find on its 2020 predecessor and is painfully outdated. It has a 4.7-inch Retina IPS LCD display with a screen resolution of 750 x 1334 pixels and a pixel density of ~326 PPI density which is not too great for today's specs.
But it could have been a lot better than so many other mid-range smartphones out there that offer more premium LED displays. Brightness is hasn't gone up either and still looms around a dim 625 nits that is barely enough to handle brightly lit environments, and its basic 60Hz doesn't make the experience any better.
However, Apple's famous Retina display is known for great color accuracy, and its True Technology makes sure your screen adjusts the display according to the environmental light.
Processor
Don't be fooled by the outdated looks because under its glossy chassis lies Apple's latest A15 Bionic chipset. Yes, it's the same 5nm Process chipset you find in the latest Apple iPhone 13 series.
The A15 comes packed with 15 billion transistors and a 16 core neural engine capable of accelerated machine learning and performing up to 15 trillion operations per second – a blazing fast performance that will leave any other smartphone manufacturer in the market scratching their heads.
How? The A15 is a SOC with 6 cores split into Performance and efficiency cores, of which 2 are High-Performance cores built to do the heavy lifting like Video or Image editing, and 4 Efficiency cores that manage your usual day-to-day tasks like browsing, document management, etc.
Apart from this, it has Unified Memory that allows the system to access data from a single pool rather than multiple pools allowing for quick, efficient transfer and access of data. All this put together gives the A15 an edge of up to 50% better performance than its smartphone market competitors.
If you are wondering about graphic performance, the A15 is no slouch. Armed with a 4 Core GPU, it has 30% better performance numbers than other competitors. Therefore no graphics-oriented task is too tricky for this chipset to handle.
Cameras:
In terms of the camera, the SE still has one of the best hardware in this price range. It has just one 12MP camera with OIS, which probably could have been updated a bit, but it seems like Apple wishes to stick with the iPhone 8 body and cram whatever it can into that chassis.
What makes it the best is its consistency in the aspect of colors and noise management. Background blur isn't all that great as it comprises the older camera hardware, but the A15 Bionic chipset does make up for all that as it has Deep Fusion and Smart HDR 4 in a dynamic range situation.
They have put a higher-capacity battery into the phone to handle the battery drain from the A15. The Lithium-Ion Battery still behaves the same way as it did in the older SE, although the A15 is highly efficient. It does drain out the battery pretty quickly if you start up a graphics-intensive high brightness app. But what can you expect when you put a high-performance chip over outdated hardware.
So, overall this phone is one of those weird unbalanced phones that you may want to say no to because of outdated design and some hardware but can't just because its the only way some of us budget consumers can get our hands on an iPhone with the latest chip at such a low price. Also, let's not forget some of us still love that nostalgic experience, and that's just as good a reason to get the all-new 2022 Apple iPhone SE.
Suppose you want to get the new Apple iPhone SE 2022, head over to the official Poorvika website to check it out and the many other products that we have. Don't forget to get a Poorvika Protection Pack at just Rs.649. It protects all your devices from damages against accidental falls or ones caused by liquid spills
We have loads of offers, discounts, and easy EMI's curated just for you, so you get the maximum benefit of the purchase. Our 2-hour delivery service allows you to get all your favorite gadgets and orders delivered right to your doorstep within 2 hours. A Trained professional handles every delivery to ensure all your packages are safe and sanitized according to government protocols.