06 Jun 2022
Best Dishwasher to buy in India- 2022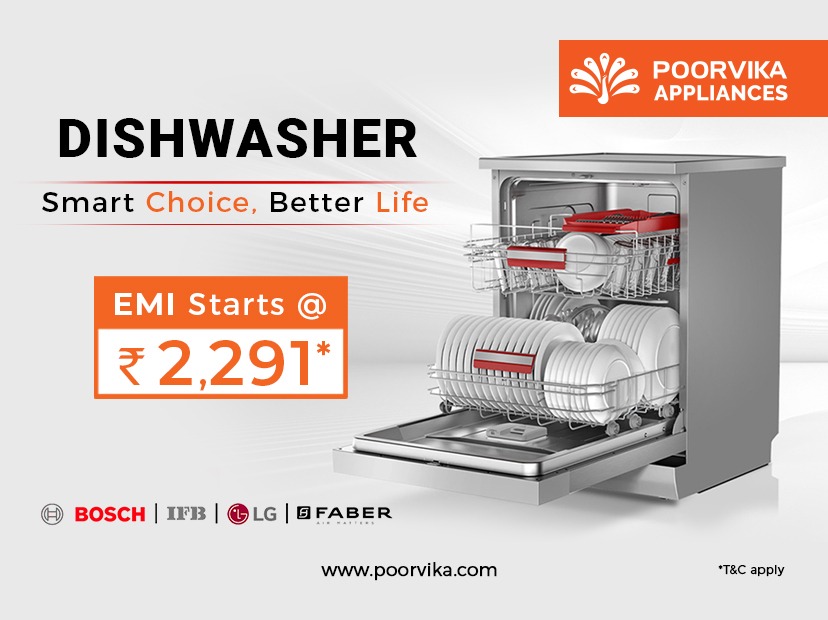 While cooking releases most stress, cleaning the dishes adds a lot more. Washing dishes is not an exciting job, at least for most people!
While most people are passionate about cooking, not everyone loves the department of clearing the mess cooking creates. Cleaning off the used vessels indeed takes double the time required to cook the dish.

To lend you a helping hand and keep your stress hormones in control, we suggest you look at the dishwashers available in the market.
Here are our top recommendations for the dishwasher to make your life accessible.
1.Bosch Serie 6 14 Place Settings Dishwasher, SMS6ZCW42E
2. LG 14 Place Settings With TrueSteam Dishwasher, DFB424FP
3. IFB Neptune VX Plus 15 Place Settings Dishwasher
Best Dishwasher-1: Bosch Serie 6 14 Place Settings Dishwasher, SMS6ZCW42E
This freestanding washing machine has a white body with a stainless steel tub.
Design:
The Bosch Dishwasher, SMS6ZCW42E has 845x 600x 600 mm with a 30mm removable worktop. It has 5 options with no adjustable plinth. It weighs just 54.7 kg which makes it portable and convenient.
Connection:
It comes with a 175cm electric supply cord and has 2400W connectivity. The dishwasher also has a 10A Fuse protection, and it also comes with a 165 cm inlet hose and a 190cm outlet hose.
Key features
Perfect drying results:
It provides perfect drying results, so you need not manually dry or wipe it dry with your hands. It uses patented Zeolith technology that uses the humidity of the cleaning phase and releases it in the form of warm and dry air during the drying phase.
Dosage assist:
It comes with a dosage assist that ensures optimal cleaning results. It has a special tray where the detergent completely dissolves.
Rackmatic:
You can adjust the height of the top basket by 5cm to make room for all the dishes. It is very flexible as it comes with many adjustment options.
Best dishwasher-2: LG 14 Place Settings With TrueSteam Dishwasher, DFB424FP:
This dishwasher from LG is Quiet, reliable and efficient in its operation.
Design:
The LG Dishwasher, DFB424FP has a minimalistic exterior design and an elegant interior design. The exteriors of this LG dishwasher make sure to upgrade the look of your kitchen. The rich glossy metal speaks up for itself. It has an easy-to-maintain and durable interior design with an aesthetically pleasing look!
Key features:
Multi-motion arm spray:
It has multi-rotational arms that spray water from all directions that reach every corner of the dishwasher. The Quad washing components are very efficient in more robust cleaning performance.
Easy rack:
The racks are easy to load and unload the dishes. The Easy Rack Plus offers easy height adjustment, foldable tines and smooth operations.
Energy-efficient:
Compared to the conventional motors, LG's Inverter efficiently uses the energy and washes the dishes! It is also highly durable that it is stable for 10 years.
Dual Wash Zone:
With the Dual wash zone, you can wash the delicate dishes while power-washing heavy-duty pots and pans with Dual-zone wash.
Also Read: Best Home Devices you have to buy today!
Best Dishwasher-3: IFB Neptune VX Plus 15 Place Settings Dishwasher
Design:
The IFB Neptune VX Dishwasher comes in Inox grey and has stainless steel built, and its basket is made from High resistant Nylon coated Galvanised Iron. It is a freestanding dishwasher with 598 x 598 x 850 dimensions and weighs 53 kgs net. As the name suggests, it has 15 place settings.
You can use the electronic push-button to control the dishwasher or turn it on/off. It also has a LED 7 segment to display the information relating to the machine.
Key features:
This IFB dishwasher has unique and most needed features that make our work much more manageable.
Unique spraying option:
It has remarkable 360-degree spray arms and a wide angel shower that sprays water to every corner of the vessel for better cleaning.
Hot water wash:
Who doesn't wish to have their vessels thoroughly cleaned? With the IFB Neptune VX Plus. You can wash your vessels with hot water, thus ensuring a deep and thorough cleaning.
Steam dry:
Dishwashing is incomplete without drying the vessels. Hence, IFB has introduced steam dry in this model where you need not dry them manually or using a cloth, and it is fully automated!
Energy efficiency:
This IFB Neptune VX Plus, 15 Place Settings dishwasher consumes just 0.949 kWh energy and hence is rated A++ rating for energy efficiency. It can perform powerful operations and save time in your kitchen with less energy.
This blog gives you an overview of the best dishwashers in different brands. Please visit the Poorvika home appliance store in Anna Nagar and Kodambakkam to know more about the dishwasher. You can also log on to the official website of Poorvika to learn more about the products.
Poorvika provides you with amazing offers, exciting discounts, and exchange offers over various products. Make use of these offers and save a lot!