08 Jun 2022
Best 10000mAh Power Banks under 1000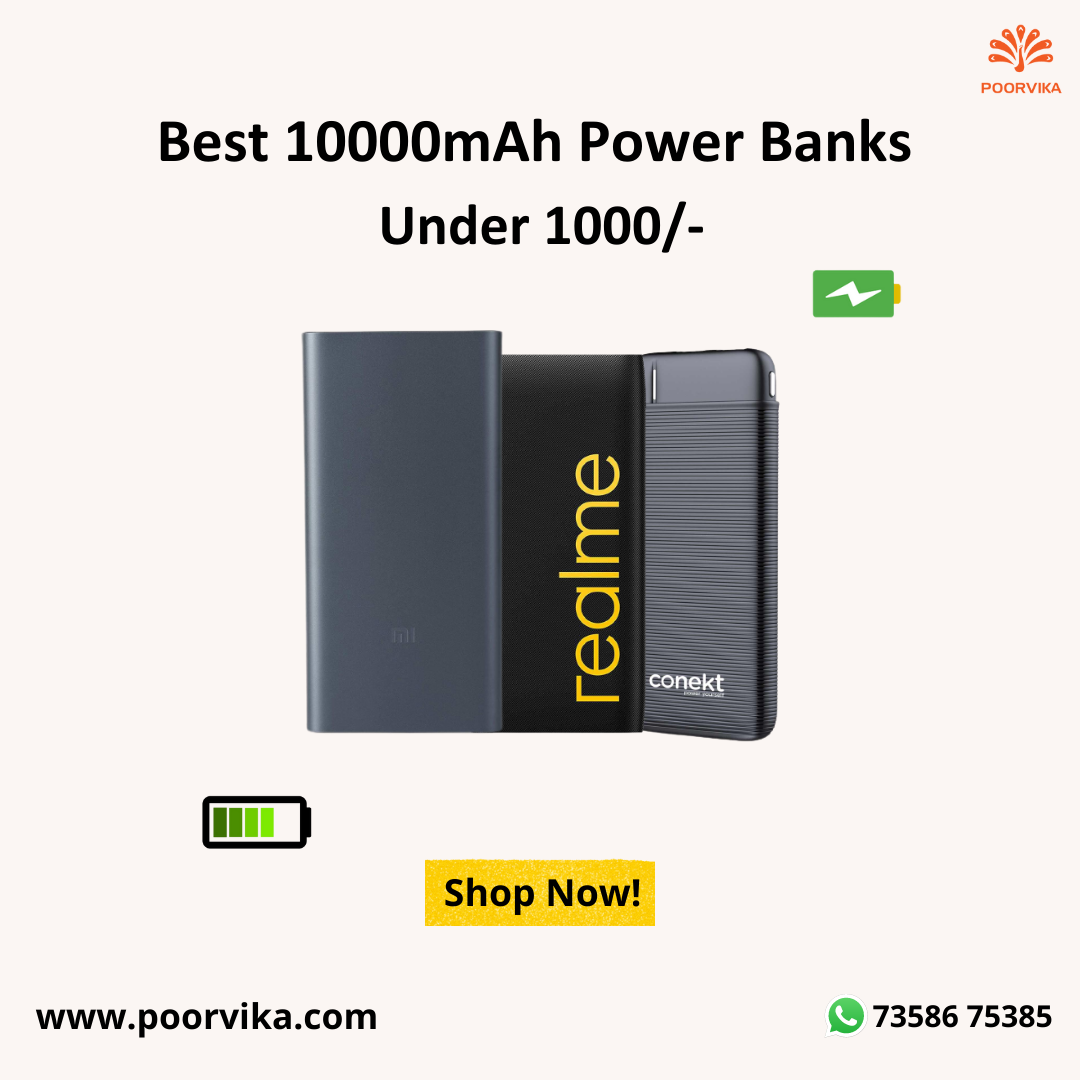 Every time you go for a road trip, there is always the impending doom of running out of charge, all thanks to the amount of power the GPS can consume. What do you do in such a situation? Well, you need a power bank that can give you all the power you require. There are tonnes of power banks out there in the market, but which one is the best for you.
One of the best ones you can find in the market for a price of 799 is the 10000 mAh Mi 3i Powerbank, and it comes in two colour options, Midnight Black and Metallic Blue colours and whats even better is the fact that it is 'Made in India.' The power bank measures 147.8 x 73.2 x 15.3mm and weighs 251 grams. The device supports 18W and 10W fast charging that comes with a dual input port. 12 Advanced Circuit Protection layers shield the power bank.
Mi Bluetooth headset and Mi Band can also be charged using the Mi Power Bank, with its low-power mode. Activating it is easy; just press the power button twice in a row to activate the low-power mode.
The Realme 10000mAh Power Bank:
The Realme 10000mAh Power Bank comes equipped with a battery that can last quite long. Available in two colours, namely Yellow and Black. You can charge all your IoT devices and accessories thanks to the low-current mode on Realme's long-lasting power bank.
The device has both a USB-C port along with a USB-A charging port. The device totally has 15 protection layers. The USB Port lets you to charge the power bank and is compatible with Dart Charge, SuperVOOC, VOOC, Quick Charge, USB Power Delivery and AFC.
The OPPO 10000mAh Power Bank
The OPPO 10000mAh Power Bank is a pretty nifty device and is available in White and Black colours. Thanks to the 18W Fast Charging support, it can juice up really fast. Many mainstream protocols like QC and PD are compatible with the power bank. It has a power button at the side of the device and an LED indicator on the front. The device has a Type-C port and dual USB ports. It has a 2-in-one charging cable to connect to Micro-USB and USB-C compatible devices.
Conekt Zeal Proton Pro 10000 mAh Power Bank
The Conekt Zeal Proton Pro comes with a powerful lithium-polymer battery with an impressive capacity of 10,000mAh. The portable conekt power bank supports multiple charging outputs to ensure quick and efficient charging for all your mobile devices. Its fast charging feature offers a 2.4A output which is pretty good.
The power bank has six levels of protection and is built using Li-polymer batteries of the highest quality to protect you against current overloads, short circuits, overheating and voltage overloads. You can even charge two devices simultaneously thanks to the dual charge technology of the Conekt power bank hence saving you valuable time.
The LED indicator keeps you informed regarding the level of charge in your power bank, so you are never confused about how much power is there. It comes with overcharge protection, Dual inputs like ( Micro, Type-c), Short circuit protection and advanced over-voltage protection.
Well, that's our list of the best 10000mAh power bank that we think will be perfect for helping you through that road trip or a tough day that demands the most out of your mobile devices. At the end of the day
If you are looking for some of the best Powerbanks available on the market, you don't have to look any further. We have them right here on the official Poorvika Website. Do Check the power bank price in India from our official website. We also have a 2 Hour fast delivery system if you can wait to get the product right away. Our delivery experts make sure all your deliveries are safe and sanitized according to govt protocol.