10 Oct 2022
Best Washing machines of 2022

Home appliances have become fancy and pricey as they keep upgrading and advancing every day.
Washing machines are one such appliance which is now majorly modernised. In the initial stages, washing machines had only washing and rinsing options. But now it has exceeded the features and specifications, thus improving our lives for good.
These machines will soak, wash, rinse, and even drain and dry with minimum time consumption. Complete all your other tasks or relax at the back and wait for this elegantly advanced machine to do its job at ease.
Now that you have decided to buy a brand new washing machine, choosing the right brand is the subsequent confusion. To make it easier for you to choose, we have categorised some of the best washing machines from various brands in this Blog.
Let's quickly dive into the specifications and features.

Specifications:
Type- Front-load, Capacity- 10.5/7.0 kg, Color- Black,
Dimension- 600 X 560 X 850.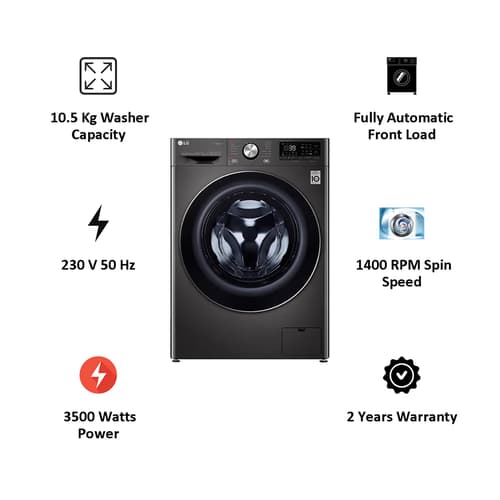 In our overall research for the best washing machines, the LG FHD1057STB stands out for its peak efficiency, performance and versatility. It ticks off all the boxes for effective and polished cleaning. The appearance of this model will complement any interior plus the best part is, this will take the same space as any regular machine but with a bigger capacity. As a front-load model, this machine is power efficient and features a turbo wash 360°, which thoroughly cleans in 39 minutes.
The AI DD implement in this model detects and protects the texture of the fabrics and chooses the apt method from its six constructive optimal motions. The LG steam technology eliminates viruses and prevents allergies with more hygiene points and 30% lesser wrinkles. With intelligent connectivity and competent diagnosis, it will be a worthful splurge.

Specifications:
Type- Front-load, Capacity- 9.0/5.0 kg, Color- Silver, Dimension- 600 X 560 X 850.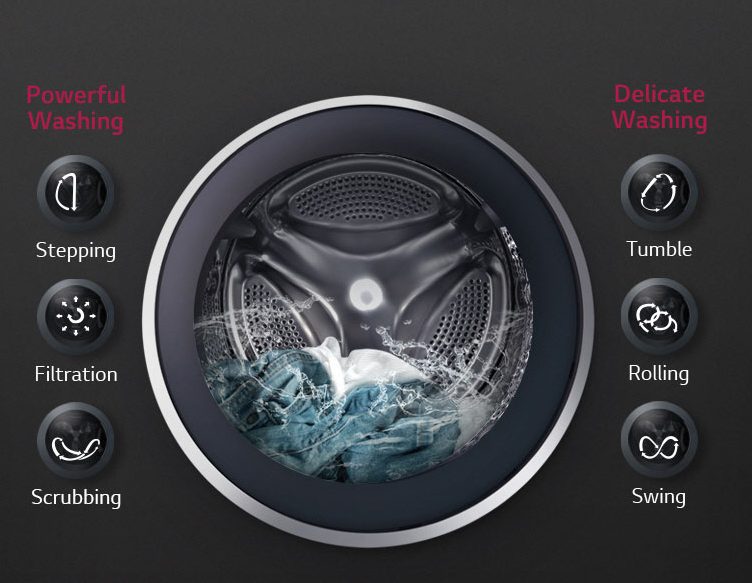 This model is another reliable pick from LG. The washing machine has features similar to the previous model from this list, as it has six powerful washing cycles with various optimal motions on top, including steam and AI DD detection. The less noise and vibration feature make it a quiet operator, so you can do your laundry anytime without disturbing anyone. The motor and other parts come with a ten-year standard warranty. If you want a high-potential washing machine with less space consumption, this pick from LG will cater to it. The wifi connectivity and smart connectivity are also an add-on! So if you are after an ultra-modern washing machine that sanitises and has the steam option, this is the one!

Specification: Type- Front-load, Capacity- 9.0kg, Color- Platinum silver, Dimension- 848 x 598 x 590.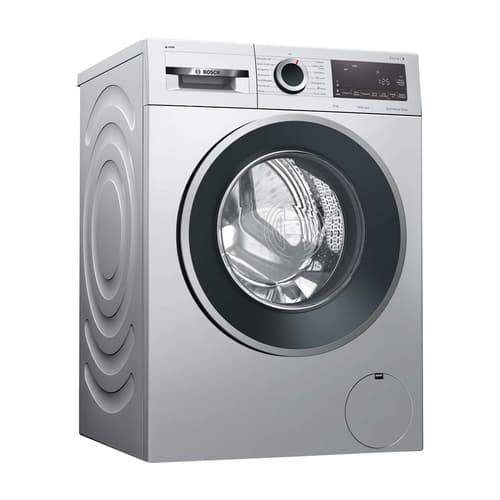 The i-Dos system in this machine precisely shows the amount of water and detergent needed. With a 50hz frequency, it can perform incredibly fast and be gentle on the fabric simultaneously. The EcoSilenceDrive makes sure the machine does its job with power, durability, efficiency and quietly. Although it does not have wifi connectivity and a steam option, it will get the other job done right. Overall, this model is perfect if you want to reduce your cleaning time with 20% less energy consumption as the washing time reduces up to 60%.
Specifications: Type- Front-load, Capacity- 6kg, Color-White, Dimension-597 x 513 x 875.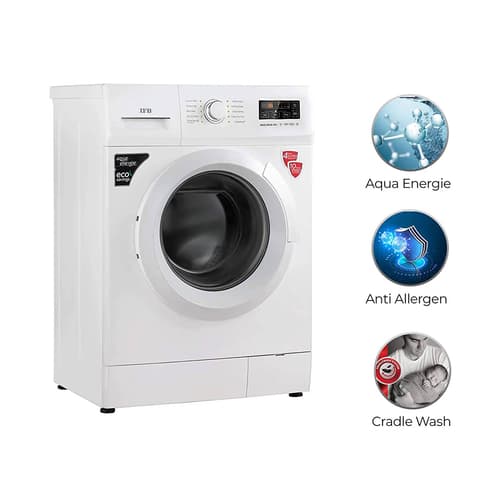 This model is a reliable choice without burning your pockets. The IFB VXS 6010 is what you want to look further for a less budget, more powerful performance. The auto tub clean feature in this model ensures cleaning the tub by itself; after 40 clean polished washes, the machine reminds you to opt for the cleaning program. It also has a steam and cradle wash system that cares for your delicate clothes and offers 99.99% germ protection. The drum is built-in with a crescent moon finish to protect the fabric from any damage. This model is perfect if you need a tough yet delicate wash for your laundry.
Specifications: Type- Front-load, Capacity- 6.5 kg, Color- White/silver, Dimension- 600 x 850 x 450 mm.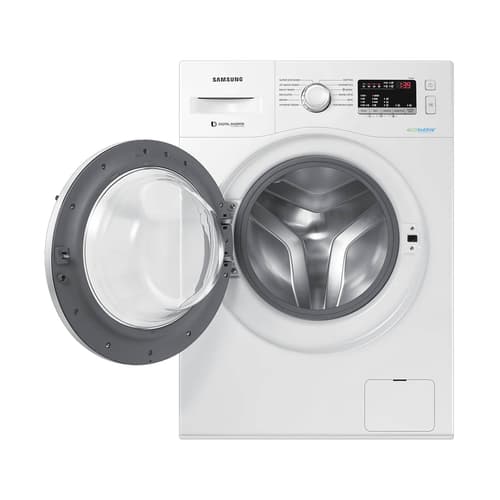 The Samsung WW65R20EKMW/TL has done their part in protecting the planet by saving maximum power and reducing harmful CO2 emissions. The star rating energy consumes minimum power with the same efficient performance. The bubble soak feature in this model is another exciting factor; it removes stubborn stains at utmost ease. For deep cleaning, use the steam cycle, which eliminates 99.99% of germs and inactive allergens.
Opt for the quick wash program, which washes the clothes within 15 minutes when running late; a perfect solution for busy schedules. This BEE 5-s*tar certified model is totally a star!

Specification: Type- Top Load, Capacity-8.0kg, Color- black, Dimension-
540 x 560 x 925mm.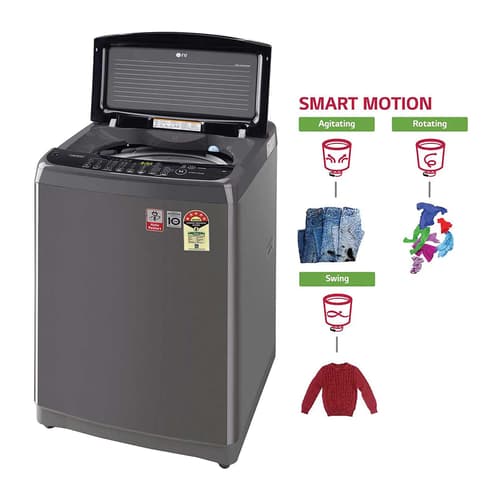 This five-star rated model from LG contains a compact and waterproof motor, the intelligent inverter technology makes it highly durable and minimises noise and vibrations. In less than 29 mins, the built-in jetway spray plus will wash away all the dirt and excess detergent without the intervention of your hand, called the hand-free wash. A quick wash, strong wash, tub clean, aqua reserve, and turbo wash are other features of this model. On top of all, this looks amazing and will take up minimum space in the laundry room, giving a powerful performance.
Specifications: Type- Top Load, Capacity- 6.5kg, Color- Grey, Dimension- 54 cm X 94.6 cm X 55 cm.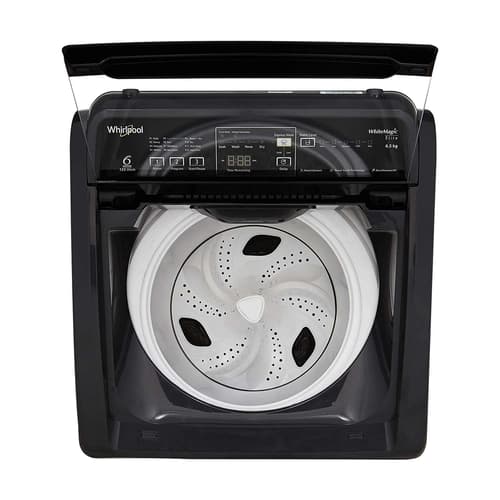 The whirlpool white magic elite is a budget-friendly model and is popular among experts for its exceptional power cleaning. The smart sensor and the lint filter feature detect water conditions and low voltage, thus helping remove the lint accumulated during the wash. Plus, it has a spa wash system and spiro wash action, providing a thorough wash in a unique circular motion with its 12 numbers of the washing program. The hard water wash works like a jet spray and maintains the colour and softness of your clothes. The white magic elite comes with a standard 10-ten warranty on the motor and prime mover. This model will be a great addition to your laundry room; get all of these features at an economical budget.
This Blog is an overview of the best washing machines from various brands.
Visit the nearest Poorvika Home appliances or log on to the official website of Poorvika to learn more about the product details. Book your best washing machine now at Poorvika, starting from just ₹ 11,790.
Happy shopping!