03 Nov 2022
Samsung Galaxy Z Flip 4 – An In-Depth Look at the Features and Specs

Your favorite Samsung brand is back with a bang, bringing its stunning flagship smartphone to market once again. The new Galaxy Z Flip 4 5G is the latest phone from Samsung that is sure to turn heads. This phone has a unique design that allows it to fold in half, making it more compact and portable than other phones on the market. It also has some impressive specs, including a powerful processor and a large battery that is sure to appeal to users. The Z flip 4 is an excellent alternative for individuals looking for a high-quality phone at a reasonable price.
Now, let's discuss all the key features and specs of the Samsung Galaxy Z flip 4 in detail.
Galaxy z flip 4 Design:
The design of the Flip 4 is similar to that of the Galaxy Flip 3, with some minor improvements. The frame is now less rounded, with flatter sides and more defined edges. Though it's thicker than its predecessor, it remains smaller and thinner. Moreover, it has a glossy metal frame that offers the smartphone a dazzling, and elegant look. A hazy coating on the glass panel gives a soft matte appearance that effectively deters fingerprints. Additionally, the smartphone still has an IPX8 rating, making it water-resistant. The Samsung Galaxy Z Flip 4 looks more appealing than its predecessor, and everyone will adore its sleek, more compact aesthetic. The Galaxy Z Flip 4 is a full-sized smartphone that folds up to be compact and efficient.
Galaxy z flip 4 Display:
The galaxy z flip 4 offers you a big display when you unfold it. It has a 6.7-inch Full HD, AMOLED display, and a high aspect ratio, making it the size of a regular phone. Additionally, it provides you with improved durability that makes it stronger than ever, even with tough hinges. It works well both indoors and outdoors and has a high level of brightness. It has an adaptive refresh rate of 120Hz, resulting in smoother action and transitions.
The Customizable 1.9″inch Cover screen display is amazing; it shows message previews and notifications, and also offers basic control toggles. Moreover, you have access to the camera through the cover screen and can snap selfies. Furthermore, you can always customize the interface to your needs. The phone also has a flex mode, a feature that allows you to stand it up on a surface and use it hands-free.
Galaxy z flip 4 Performance:
The Samsung Galaxy Z Flip 4 features the most powerful Qualcomm Snapdragon 8+ Gen 1 CPU and 8GB RAM, which allows for smooth and flawless performance. Additionally, you can multitask and play games without experiencing any lag as well. It is really comfortable to handle and operate, even while playing.
Software:
The Galaxy Flip 4 is powered by Android 12 OS and Samsung's One UI. Thanks to one UI, you can make your Android phone distinctive. It lets you customize the Cover Screen and Main Screen according to your preferences. It is even possible to customize the widgets by adding stickers and emojis.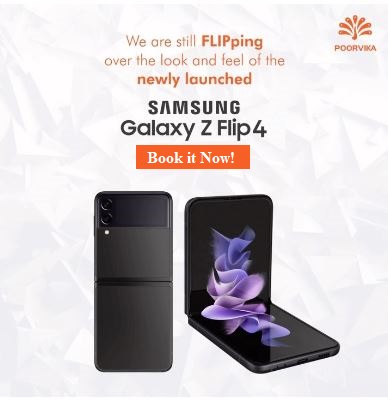 Audio Performance:
Samsung Flip 4 is equipped with stereo speakers tuned by Dolby Atmos, ensuring loud and crystal-clear sound quality.
Galaxy z flip 4 Camera:
The camera on this smartphone is one of its most impressive features. In terms of camera performance, it truly lives up to expectations. It has a 12MP primary camera, a wide-angle camera, and a 10MP selfie camera. It provides excellent detail both during the day and at night. You can now capture more clear photos at night with the help of nightography on the back camera. Selfie enthusiasts will adore this 10MP Selfie Camera. You may get perfect, clear, and crisp photographs when you take selfies in portrait mode. Flexcam is a remarkable feature that offers you a flexible and hands-free camera experience. The photos and videos captured in this are simply fantastic.
Galaxy z flip 4 Battery:
When it comes to battery life, this flip phone has a long-lasting 3700mAh battery and has a talk time of up to 34 hours. It supports 25W super-fast charging. Even faster wireless charging 2.0 can be used to bypass the cord when it is low. When compared to the Galaxy Flip 3, the battery capacity is much improved and it gets charged rapidly.
Connectivity:
This device only has a USB-Type C port for connecting your charging cord. The smartphone features 5G support along with connectivity choices for Wi-Fi 802.11 a/b/g/n/ac/ax 2.4G+5GHz, HE160, MIMO, 1024-QAM, Bluetooth v5.2, GPS, Glonass, Beidou, Galileo, and QZSS. The gadget has two SIM card slots, one of which is a nano-SIM and the other an eSIM. Moreover, there are two storage capacities available: 128GB and 256GB, allowing you to save all of your data without worrying about running out of space.
In terms of sensors, it has an in-display fingerprint sensor, an accelerometer, a barometer, a gyroscope, a geomagnetic sensor, a hall sensor, a light sensor, and a proximity sensor.
Verdict:
The Samsung Galaxy Z Flip 4 is a premium flip smartphone that will astound you with its incredible features throughout. Furthermore, if you enjoy taking selfies, you will undoubtedly enjoy this Smartphone. It captures amazing images with crisp details. It is one of the greatest premium smartphones available right now and has a pretty impressive design and feature pack. At Poorvika, you can purchase this phone at the best price with exciting discounts & offers. Place your order now or visit your nearest Poorvika store today!