27 Feb 2023
The Tecno Phantom X2 Pro 5G: A Closer Look at its Features and Performance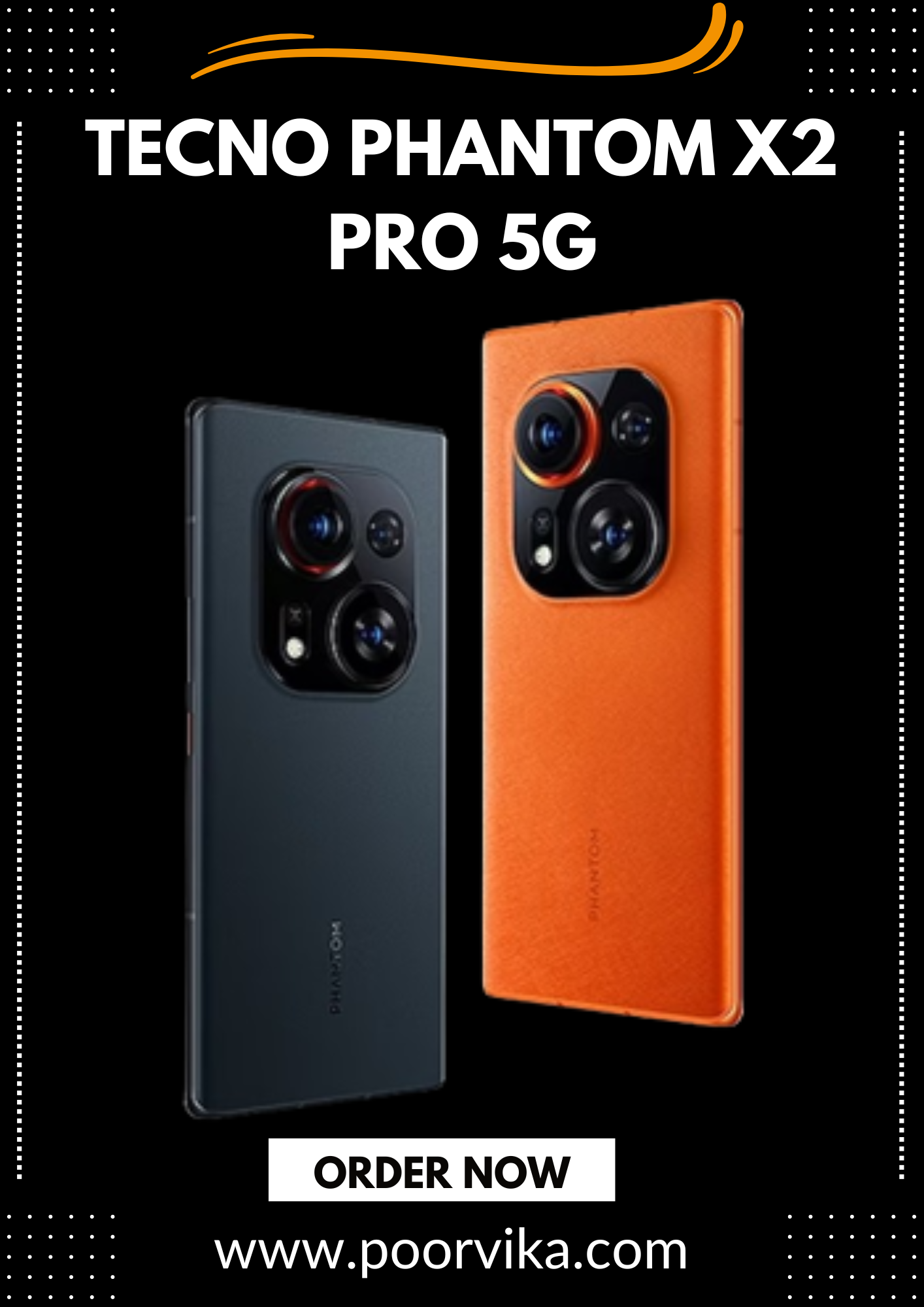 Are you ready to pop out the big shots? Then look no further than the Tecno Phantom X2 Pro! This is the latest flagship smartphone from one of the world's leading smartphone brands, and it promises to be an absolute powerhouse. This phone packs a punch with its impressive features and is designed for anyone looking to take their mobile experience up a notch. We know you're eager to find out what this phone offers, so let's dive in and continue learning about it in this article.
Design and display:
The Tecno Phantom X2 Pro 5G boasts a distinct and striking design, featuring a unibody double-curved design that stands out from the crowd. The device sports a 6.8-inch FHD+ AMOLED display with a resolution of 1080 x 2400 pixels, which provides vibrant and crisp visuals. Color reproduction is great, making it perfect for streaming videos and playing games. The display has a 120Hz refresh rate and a 20:9 ultra-wide cinema-like screen ratio, making for an immersive visual experience.
The large screen on this amazing device gives you unparalleled visuals and immerses you in the action of every scene. Its lightning-fast display ensures smooth interactions and animations, giving you a cinema-like feel when watching movies or playing games. Also, its milky smoothness provides maximum comfort throughout your viewing sessions. With its cinema-like visuals and ultra-fast speed, it's sure to provide you with plenty of enjoyment time after time again. The screen also has Corning Gorilla Glass Victus protection to keep it free from scratches and other damage.
The build quality is also top-notch, with a solid and durable construction that feels premium in the hand. The device also features the world's first 3.5D Lunar crater Dazzling stained glass which gives it a unique aesthetic touch.
Tecno Phantom X2 Pro Camera Technology:
The Tecno Phantom X2 Pro 5G smartphone boasts an impressive camera system, featuring the world's first retractable portrait lens. This innovative technology provides the optical performance of portrait imaging to an unequaled new level. The camera has a large aperture, which enables you to take clear, bright, and stunning photos with natural-looking optical bokeh. The phone features dual 50MP flagship main cameras, allowing you to capture stunning and detailed photos in any lighting condition. The device also features hardware-level night portraits, 65mm golden portrait close-up, and ultra-clear night shots.
The front-facing camera is also noteworthy, with a 32MP ultra-clear selfie camera that captures clear portraits of pure beauty. The camera also produces crisp professional portraits with no blurring and rich details. The Phantom X2 Pro 5G also offers wide-angle portrait group photos and computational photography. To top it off, the device can also shoot 4K 60fps portrait video, making each frame a blockbuster.
Overall, it is a standout feature, allowing users to capture professional-grade photos and videos with ease.
Processor and memory:
The Phantom X2 Pro Processor is a revolutionary chip that has pushed boundaries in the technology world and set a new standard for mobile devices. This smartphone is a true flagship device, featuring the world's first 4nm flagship Dimensity 9000 chip. This cutting-edge processor boasts an incredible 15.3 billion transistors and delivers unrivaled performance. The Dimensity 9000 chip allows for incredible power efficiency, allowing smartphones to run faster at lower temperatures – all while taking up less space! This groundbreaking design also provides improved battery life for longer gaming sessions or extended video playback times.
It is designed to deliver 30% higher performance than its predecessor, with a 10-core GPU that offers a 35% reduction in power consumption. Plus, with its 10-core GPU, it offers ultra-smooth gaming and lightning-fast speeds for both work and entertainment applications. Also, users can have access to the latest gaming titles with the highest graphical fidelity available today.
This powerful processor is paired with 12GB of RAM and an additional 5GB of extended RAM, providing a total of 17GB of memory. This ensures that even the most demanding apps and games run smoothly and without lag. The Phantom X2 Pro 5G also comes with 256GB of internal storage, which is more than sufficient for all your media and apps. Additionally, the device comes with an anti-fragmentation storage optimizer, which ensures that your storage is always running at optimal performance.
Tecno Phantom X2 Pro Operating System:
The Tecno Phantom X2 Pro runs on the latest Android 12 operating system, offering users an updated and modern experience. Android 12 brings improved privacy controls and customization options, as well as enhanced performance and security, making the phone a reliable and secure choice. Overall, the phone's Android 12 OS provides a smooth and efficient experience with the latest features and functionalities.
Battery & Charging:
The Tecno X2 Pro boasts a 5160mAh extra-large battery, which is comprehensively optimized for energy efficiency. This means that it can last longer on a single charge, even with heavy usage. Additionally, the full-scene power consumption has been enhanced to ensure that the battery lasts even longer. The phone also comes with a 45W supercharging feature that allows you to quickly charge your device. With just 20 minutes of charging, you can power up to 54%, and in just 1 hour, you can fully charge your device. This makes it perfect for those who are always on the go and need their device to last throughout the day.
Tecno Phantom X2 Pro Connectivity & 5G:
The Phantom X2 Pro is a powerful smartphone that is equipped with advanced technologies to provide users with an exceptional online experience. With 5G technology, users can enjoy lightning-fast internet speeds and smooth connectivity. Additionally, The device has smart 5G power consumption optimization, which helps the battery last longer when using high-speed internet. It also supports WiFi, Bluetooth, FM, and OTG connectivity, making it easy to connect to a variety of devices and networks. Overall, the Tecno Phantom X2 Pro's connectivity is a major plus for anyone looking for a fast and reliable smartphone.
Conclusion:
In conclusion, the Tecno Phantom X2 Pro is a phone that exceeds expectations in every area. From its robust design to its incredibly powerful processor, this phone is sure to give users an unforgettable experience. Its camera quality, advanced processor, and fast charging capabilities make it stand out from the competition. Its user-friendly interface and versatile design make it a great investment for anyone looking for a reliable and powerful device. It's a great choice for those looking for a premium smartphone with the latest technology.
Visit Our official Poorvika website to know the price of the Phantom X2 Pro in India and purchase it at the best price. In addition to the Phantom X2 Pro mobile, you can also explore other products on our website.