27 Feb 2023
Experience blazing-fast 5G with the Samsung Galaxy A23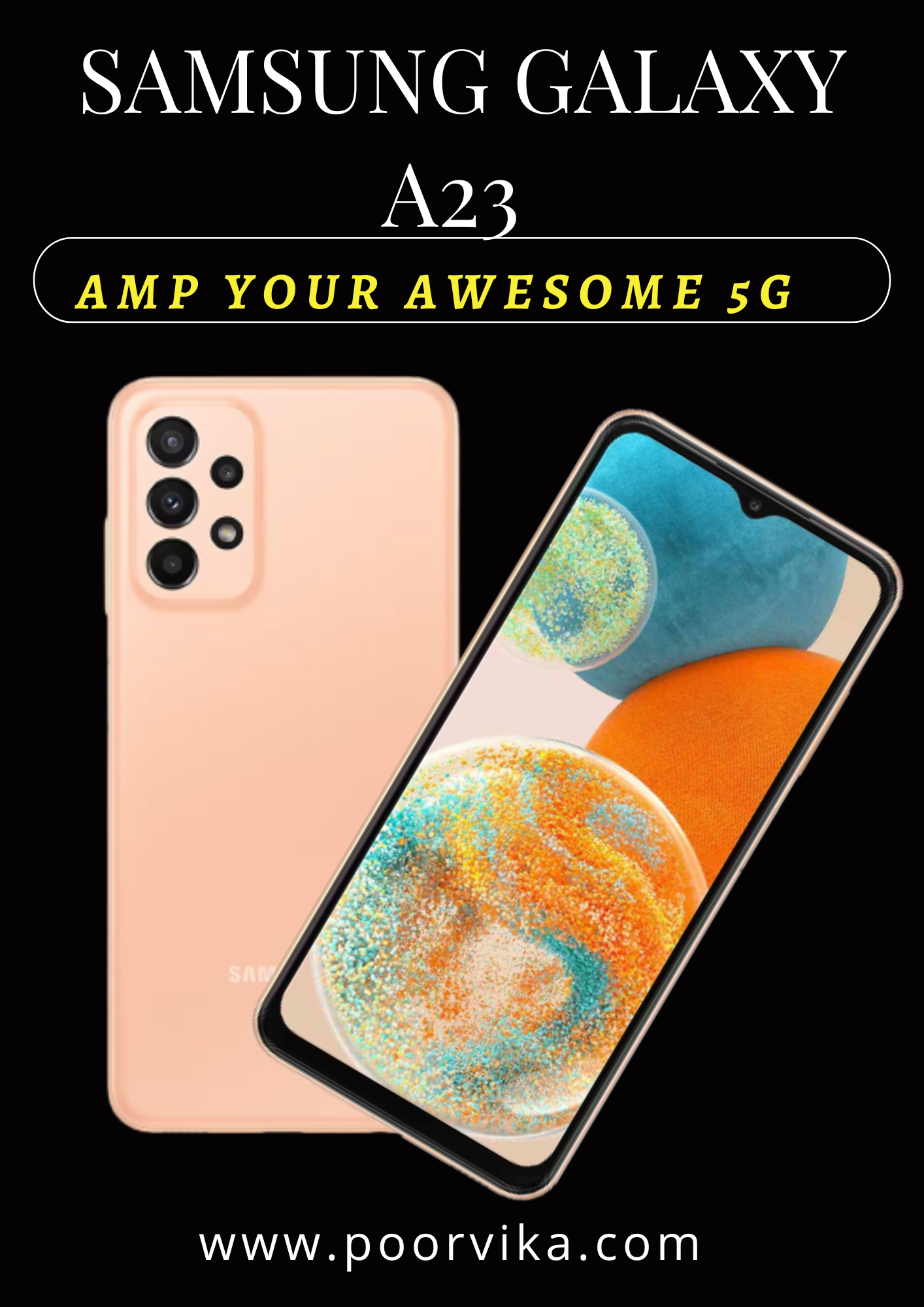 Introduction
Are you looking for the best mobile device that combines impressive camera quality with massive battery backup? Look no further than the Samsung Galaxy A23 5G mobile phone. This device is a powerhouse of features and performance, offering premium specs at an affordable price. With its 5G connectivity, it provides users with blazing-fast download speeds and reliable connections.
Samsung's Galaxy A23 5G Possibilities with New Exploring
Samsung recently released its latest 5G mobile phone, the A23. This device offers a wide range of features, making it an excellent choice for those looking to upgrade to a 5G phone without breaking the bank.
Samsung Galaxy A23 5G of Unlocking Secrets
The A23 5G features a 6.6-inch PLS LCD display with a resolution of 1080 x 2408 pixels (FHD+). The screen is bright and vibrant and has a wide viewing angle. The phone also has a 120Hz refresh rate, making scrolling and gaming smoother.
Under the hood, the A23 5G is powered by a Snapdragon 695 processor, paired with 6GB or 8GB of RAM and 128GB of internal storage. This combination makes the A23 a capable device that can handle most everyday tasks with ease. It also has a large 5000mAh battery that will last you a full day of use.
One of the standout features of the A23 is its 5G capabilities. With support for Octa-Core (2.2GHz, 1.8GHz) 5G, the A23 allows you to take advantage of faster download and upload speeds, which is especially useful for streaming videos and playing online games.
Power-packed performance with Samsung A23 5G
The A23 also has a quad-camera setup on the back, which includes a 50-megapixel main camera, a 5-megapixel ultra-wide camera, a 2-megapixel macro camera, and a 2-megapixel depth camera. The main camera can shoot decent photos with good color reproduction and sharpness. The phone also has an 8-megapixel front-facing camera for selfies and video calls.
Experience seamless connectivity with the A23 5G
The A23 runs on Samsung's One UI 4, which is runs on Android 11. The interface is smooth and user-friendly, making it easy to navigate and customize. The phone also comes with a variety of Samsung's signature features, such as Samsung Galaxy A23 5G lives up to the expectations displayed by end users. The smartphone boasts some good camera features that have LED Flash, allowing users to click great pictures, no matter where the lighting is. Furthermore, enduring RAM together with a battery capable of ongoing multitasking considerably facilitate common use.
Overall, the Samsung A23 5G is a great budget-friendly option for those considering upgrading to a 5G phone. It offers a range of features that make it a capable device for everyday use, including a large battery, a smooth 120Hz display, and 5G capabilities. Additionally, the quad-camera setup and One UI 5 make the A23 5G an ideal choice for those who enjoy taking photos and videos.
Conclusion
The Samsung A23 5G mobile phone is a masterpiece of modern technology. Its features and functions are designed to make our lives easier, more efficient, and more enjoyable. With the camera, you can capture and share high-quality pictures and videos. The large battery capacity ensures hours of use without interruption. Also, 5G networks promise faster connectivity than ever before. I am delighted with this phone and cannot wait to experience all it has to offer. To know about other products click here!